Harnessing youthful vigour
WOMAN'S INSTINCT
By - | December 29th 2012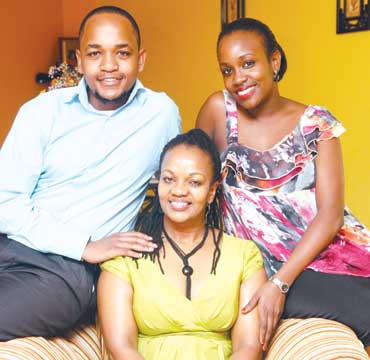 Waguthi Mahugu and her children, Mahugu and Nyaguthii. [PHOTOS: TABITHA OTWORI/STANDARD
Waguthi Mahugu, is working with the youth to redirect their energies into constructive work and preventing them from being used to cause chaos by politicians. She spoke to GARDY CHACHA
The first impression she creates in her thin-rimmed glasses and a dreadlocked coif is that of an independent, no-nonsense woman.
But Waguthi Mahugu — though educated, strong willed, articulate and with a go-getter attitude — is still your normal modern woman who is constantly seeking a good life for herself and a prosperous future for her children.
"It is every parent's dream to see their children live better lives than themselves. Every single day I pray that they turn out right and use their energies in important activities," says Waguthi with a stern smile.
For this reason, Waguthi, who is in her 40s has created a movement aimed at engaging the youth in constructive conversations and conducting meetings where they can learn better ways of living a cohesive life and focusing on economic growth and self-improvement.
"NiElect is an idea I came up with earlier in the year after realising that unless the youth changed their mindset, thoughts and actions regarding patriotism, we might end up experiencing another January 2008 come the General Election in March next year," she explains.
A mother to two young adults, a boy and a girl, Waguthi knows only too well how untapped youthful energy can synergise from all corners of the country into an explosive tragedy, reminiscent of the 2008 post-election violence.
"The post-election violence was dreadful and every Kenyan was affected in one way or another," she remembers.
Inhumanity
While many Kenyans are praying that there will not be a repeat of the 2008 violence, Waguthi decided to take a step further to ensure that those born after 2008 only see violence in their history books.
She says: "During the violence I noticed that those who wielded machetes; those who threw stones; those who maimed and raped; those who committed atrocities against their fellow citizens — were young people. I am a mother of two and I wouldn't want them to be syphoned into the inhumanity I saw taking place during the post-election violence."
But her quest to see the youth dissipating their energies through helpful activities and constructive conversations didn't just begin with a single thought of averting the worst that could happen. She had first-hand experience on what national chaos can lead to in the same 2008 violence.
"We were locked up in the house for several days and ran out of food. The nearest friend who would bring us food and maybe take us in was from the other side of the two warring communities. I called him and he responded positively — bringing us food and accepting a request that if the chaos escalated he would open his doors for us."
Different
It was a hard thing to do; trusting someone — albeit friends — who possibly supported a side that would have had them dead because of being from a different community. Nonetheless, Waguthi learnt something from her friend: That a human being, who is as human as humanity demands, is good company.
"Our youth and those in the upcoming generations should live a different life, where everybody is a brother or sister. If my friend hadn't helped me, or if he could have decided to harm us, then we wouldn't be writing a good story, but a bloody one."
Though she is not a stalwart on youth affairs, just like it is said that experience is the best teacher, she has learnt through her son and daughter that the youth have energy and lots of ideas.
She says: "Statistics show that 10.7 million of those currently registered to vote are between ages 18-35. If they are not given a chance to speak on what they want and make decisions in their country, they could whip a country like a destructive hurricane.
My core idea of NiElect is to bring youths of different colour and creed through one platform to stand by peace, elect credible leaders and do something to improve their lives."
Waguthi, as the brain behind NiElect and the front person, has done several projects, which decorate the core tenets of the organisation. NiElect aims to register 5,000 youths as peace ambassadors around the country to forge ahead the clamour for peace and informed decisions come next year's General Election.
Waguthi offers that the reason behind why her foci of interest being the youth is because she is a mother and she would love to live in an heterogeneous society with calm: Where the duopoly of populace — young men and women — are busy moving the country forward, not tearing it apart.
Working with NiElect is not her only engagement. Waguthi is the founder and CEO of Nam Consult, a firm with two wings: One in public relations and the other in merchandising.
Fate had it that she would be a single parent, but her steel resolve has made it just fine for her. Her daughter, who is also the eldest, has graduated with a degree in Law. Her son is a few years away from putting the last stroke of pen on paper as an undergraduate at the USIU.
It is only when she removes her glasses to wipe them off in the last minutes of the interview that the renaissance of her smiley face is revealed.
"I look that serious?" she chuckles. "I am actually friendly and I smile a lot. Please don't be scared," she says jokingly.
Her life revolves around full stewardship of her company with periods of NiElect sessions sparsed between weekdays.
At her free time, Waguthi finds solace in painting her thoughts on canvas.
Accountability
Looking at the scenography of her artwork, her stand for peace, love and unity shines through. Her love for her children is inestimable and her passion for the youth is evident in that love.
"My dream is to see my children become the best they can be. I want them to create an atmosphere of accountability and doing what's right. Those are the basic principles behind NiElect," she says.
Waguthi graduated in Sales and Marketing and has also sat through training on leadership. A mother, entrepreneur, peace crusader and an artist all in one, Waguthi could be living her dream of prosperity, but her concern is in handing the baton to the next generation of adults who should steer "our country to prosperity".
New Year health resolutions that count
It's now only a few days to the New Year. As a tradition, many individuals review the past year's events and come up with a list of resolutions for the coming year.