ADHD in teenagers
WOMAN'S INSTINCT
By - | December 29th 2012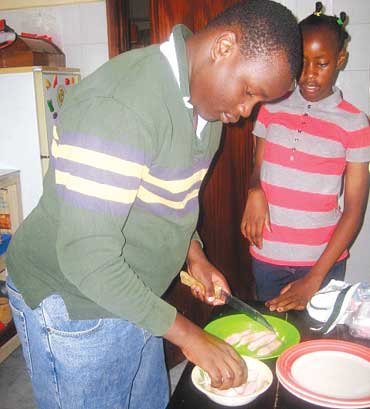 Martin preparing sausages for breakfast. [Photo: Lydia Limbe/Standard]
Attention Deficit Hyperactive Disorder (ADHD) is a condition that affects boys more that girls and can be controlled using several intervention methods, writes LYDIA LIMBE
Calm, warm and soft-spoken is the aura that Miriam Warorwa exudes as she walks into her living room, ready for the interview.
In tow are her two teenage children, Martin 16, and Shania 14. From the initial glance I can't tell there's anything out of ordinary with Martin, maybe because I'm expecting the obvious signs, until I'm told he has been living with Attention Deficit Hyperactive Disorder (ADHD).
"Martin is fine now. He's confident, can express himself and socialise," says his mother, obviously full of love and pride for his son.
"It took so long before I knew what condition he was suffering from. It was traumatic watching him grow as he was rejected in schools, and his schoolmates would laugh at him," adds Mariam, sadly.
They were living in Eldoret town at the time and she had to change schools regularly since he was rejected for his inability to read and write when compared to his peers.
"It wasn't rare to see in his books, two bold red pen cross marks, followed with 'Can't write' or 'Does not follow instructions'. It was disheartening," Miriam recalls.
Out of desperation, Miriam took Martin to a small school in the area so he could experience school like other children.
"I spoke with the school administrators and they agreed to take him, to my relief. They sang with him, played with him, and slowly he began to crawl out of his shy shell," remembers Miriam.
With the unfortunate turn of events of the post-election violence of 2008, Miriam's family had to relocate to Nairobi, and was charged with the daunting task of looking for another school that would give Martin the same safe space. She settled for a small school in Donholm.
It was during a hospital visit for her late son's arthritis check-up that she discovered what her son's condition was.
"We had gone to see my late first born son's doctor (Martin's elder brother Eric), who passed away two years ago while undergoing a minor operation. He took just one look at Martin and said 'I know the solution to his problem and it's next door'.
The doctor noticed his hyperactive nature, and when we walked next door, the doctor gave him some toys to play with, and he calmed down," says Miriam, looking at his son fondly.
Miriam says she felt such a huge burden lifted off, finally knowing what the condition was. However, this posed another challenge; how best could she support her child with this special need?
Innate talent
Her doctor, listening to her sentiments, suggested that she visits GrangeVille School, a private school that takes on children with learning disabilities.
That was in 2009, and she proudly says that since her son enrolled in this school, there has been tremendous improvement.
The principal of GrangeVille, John Runo, echoes Miriam's sentiments, stating, "Martin came to our school without speech. Now he can relate with people, he's social and in fact, is the head of their social circle, which is a group of five students.
"We discovered that Martin loves cooking, so we steered him in that direction. He is even in the team that receives training from a collaboration programme between our school and the Kenya Utalii College," the principal points out proudly.
True to his word, while I conduct the interview, Martin is busy in the kitchen preparing sausages for breakfast, while his sister makes eggs.
"Initially, I was afraid of leaving them alone in the house, let alone in the kitchen for obvious reasons. Now, I'm relaxed when they are alone, because I know they can sort themselves out when hungry without the danger of getting burnt," says a smiling Miriam.
ADHD is a condition that affects children and may proceed into adulthood. Children suffering from this condition have short attention spans of two to three minutes, whether engaged in a mental or physical activity, according to John Ouma, a specialist in special needs, including ADHD.
"They also have trouble staying on a task for any length of time, unless they receive constant feedback, stimulation and reward or have close, one-to-one supervision. They fleet from activity to activity, hardly ever completing any. They are either distractible or hyper focused and they lose their train of thought easily. They get muddled up and they have difficulty getting back on track.
"They get bored easily and are impulsive, acting without thinking of the consequences of their behaviour," he says.
Other symptoms include being inattentive, switched off, or distracted. These can be in varying degrees and one can be diagnosed to be either attention deficit or of having a hyperactive nature.
Ouma says that 75 per cent of the cases are hereditary, even though the number of children being diagnosed with ADHD that is triggered by lifestyle has risen.
"I've carried out a research, which shows that there are more children in urban areas being diagnosed with ADHD compared to those in rural areas. This is proven to be as a result of foods they eat and the environment they live in," says Ouma.
In urban areas, children eat a lot of sugars (biscuits, cakes, chocolates, sodas), refined carbohydrates, such as French fries and saturated fats as found in animal products. Other food-related causes include high amount of salt, preservatives, food colour and additives. These foods are responsible for mood swings, and when ingested by those suffering from ADHD, symptoms are more pronounced, his findings show.
Sensory overload
"The refined sugars and carbohydrates are broken down by the body and the excess sugar increases the adrenalin rush, which leads to restlessness. For saturated fats, cooking fat used more than three times emits toxic substances that if ingested, irritates the nervous system, causing sensory overload, leading the person to fidget," explains Ouma.
The high cholesterol in these foods also interferes with information processing, causing a mental fog and making the child or adult stumble over things or become over-excited.
"Interestingly, this condition mainly affects boys compared to girls in the ratio 4:1," says Ouma.
With early intervention, the child can outgrow the symptoms and lead an independent life.
There are several methods of intervention.
First is the bio-medical intervention, where a sufferer is put on a strict balanced diet that will give ample energy and all the other necessary nutrients preventing food as a trigger.
Second is educational intervention, where the classroom provides short tasks, motivates children and engages them in activities like playing and singing, that appeal to their learning style, he further adds.
The third is psychosocial intervention. This is structured play at home and at school to help develop positive relationships.
Ouma also points out that these children are usually talented, and with timely intervention, they have potential to be successful business people, scientists, doctors and lawyers.
Martin is one such beneficiary to this intervention. The school principal, Runo explains how.
"We have a programme dubbed Individual Transition Programme (ITP), where we work with each child on individual basis preparing them for independence on the outside world.
Reasoning
"For instance, Martin is in the catering class and that means he has to learn how to budget his money. We give them an amount of money with a list of items to buy, which surpass the budget, to gauge their reasoning capability. Martin is among the few students who can at his age budget with the amount of money he has and come out of the supermarket with all the items on the list without going over and above cash in hand. It's commendable!" exclaims Runo.
Before we leave, I catch Martin reading the paper, telling his mum the football match line-up for the day. Earlier on while still in the kitchen, he'd texted his mum's friend to wish her a happy Jamhuri Day.
Great foods for mum and foetus
A pregnant woman needs to choose foods high in vitamins, minerals and nutrients for the foetus to have the crucial nutrients needed for developing