Changing the face of local TV shows
By Shirley Genga
It is a chilly Saturday morning and I am standing outside Galitos restaurant on Nairobi's Moi Avenue. I am in the company of the cast of the TV show, Tahidi High, waiting for a vehicle to transport us to the shoot location at Nairobi Academy, on Langata Road.
They are a friendly lot who, in minutes allay my initial apprehension. A little while later, Catherine Wamuyu Nguku, the producer and director of TV shows Tahidi High and Mother–in-Law joins us.
She is warm and welcomes me with a smile and a firm handshake. I am excited. In a little while, the cameras will be rolling and I will see her in her true element.
Catherine in the studio, doing what she enjoys most.
On location, she does not disappoint. Interestingly, by the time she took her first class in Television Production at KIMC (Kenya Institute of Mass Communication), a TV set was still an alien gadget in her world.
First TV viewing experience
"I watched television for the first time in college — though it did not bother me," Catherine admits.
She then takes me back in time — her education and how she discovered her calling in television production.
Catherine fell short of just two points to make it to University. "On completing A-levels, I applied to different institutions to pursue my education further. "At the time, it did not matter what course you were called for so long as you got the chance to attend college", asserts Catherine.
On completing her A-levels, she taught at Gatondo Secondary in Nyeri, for a year, in 1986. It was here she met her husband, Peter Nguku Kimani, also a teacher. The two were married later that year.
In 1987, Catherine received an invitation letter to join the Kenya Institute of Mass Communication. Problem was, she was pregnant with her fist child and the principal was sceptical about admitting her. He sent her on maternity leave but refused to readmit her even after she gave birth saying she needed to nurture the child.
A reprieve came through when the college received a new principle, Mr Job Osiako.
"God never sleeps. Osiako allowed me to return to college without much ado", says Catherine.
TV is captivating
"You cannot taste television and desire anything else. So after my first class, I knew this was what I wanted to do. In deed, I graduated top in my class and my final project, a documentary on organic farming, won an award," reflects Catherine.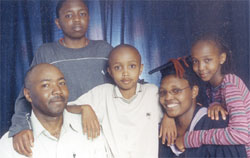 Catherine with her husband and children (from left , Albert, Allan and Miriam) after she graduated from the university of Nairobi in 2005.
Catherine believes that to be a great producer or director you must be disciplined, diligent and of good morals. But most importantly, you must learn to delegate, so that if you were to leave today, then you have imparted knowledge to the next generation.
And how was the concept of Mother-in-Law mooted? "Like the case of Tahidi High, my friend Naomi and I brainstormed on ideas and the show was birthed," explains Catherine.
Catherine says the greatest challenge in running a show is getting suitable shoot locations and finding appropriate props for the set can be costly. However, her motto has helped a lot — keep it simple, use materials at your disposal and be innovative.
"Before producing any show, we do our research, counter-check facts, examine the Education Act and what the Constitution says and adopt current trends. When producing Tahidi High for instance, we wanted to entertain, inspire and inform and in Mother–in-Law, we wanted to not only educate but connect with our audience as well. Look at today's world, who is not talking about their mother-in-law — many people can relate with it," says Catherine.
Shooting schedule
Tahidi High is shot at Nairobi Academy, during school breaks. Shooting a single episode takes two days.
"When school is on recess we shoot every working day — from Monday to Friday. But when the school reopens, we shoot Mother in-Law Monday to Thursday and Tahidi High on weekends," says Catherine.
How does she manage to juggle between her busy schedule and twin roles as mother and wife? "The hours are crazy but my husband is a blessing, he never complains. He lets me do my work and encourages me when I'm feeling low. My success is my husband's as well. He drives me to town every morning so I get there by 7am. I get home late sometimes and when we don't have a house girl my husband will tell me —'don't worry about us just do your work'," says Catherine.
Catherine says although she loves her job one day she sees herself farming. Already she has a small farm that she adores.
When asked about how she feels about winning best producer for the the two shows, during the inaugural Kalasha Awards (for the local film industry) held in June this year, her answer is simple but profound, "Whatever God gives you to do, do your best and he will bless you".
Caged in the singles trap
Are you among countless unmarried men and women groping in the dark for lasting love? Author and marital therapist Andrew G Marshall says a change of tactics will free you. KIUNDU WAWERU shows you how