We're ready to sell BBI to locals, say Busia ODM officials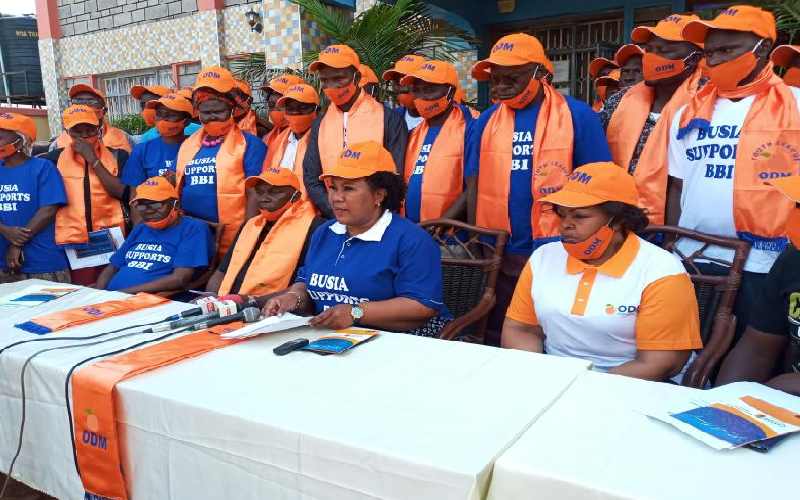 Orange Democratic Movement (ODM) officials in Busia are ready to popularise the Building Bridges Initiative (BBI) in the region.
Led by party's Deputy Secretary-General who is also Busia Woman Rep Florence Mutua, the officials drawn from six sub-counties endorsed the BBI report, saying it will unite the country.
They urged the government to ensure adequate copies are available for people to read and understand it.
Addressing the media in Busia, Mutua was categorical that as a party, they will ensure that residents are well informed and make the right decision on the BBI.
"Nobody will read BBI for you, I urge you to read and understand it and later make an informed decision when the right time comes," said Mutua.
She continued," As a party, we have stood for strengthened devolution and that is why we supported Okoa Kenya initiative. We were fighting for more funds to be taken to counties from the national government."
ODM secretary general Innocent Oluku said as grassroots officials, they will not support the youth from the region being misused by self-seeking politicians.
"We want genuine empowerment of youth and women but not to misuse them under the guise of supporting them," said Mr Oluku.
ANC stance
Separately Nambale MP Sakwa Bunyasi has said his Amani National Congress (ANC) will make an officials stance on the BBI report once it is unveiled on Monday.
At a press conference in Busia town, Bunyasi said the party has asked its members to read the report before they can meet and announce their position.
He hinted that referendum is likely to be held after one year arguing that the electoral body as currently constituted may not be able to manage the plebiscite.
"There are things we shared with the committee that was mandated to collect views from the public, we want to see if they are captured in the report or not," he said.
"Once all members have read the report, we shall meet as a party and make public our stance about the BBI," the MP said.