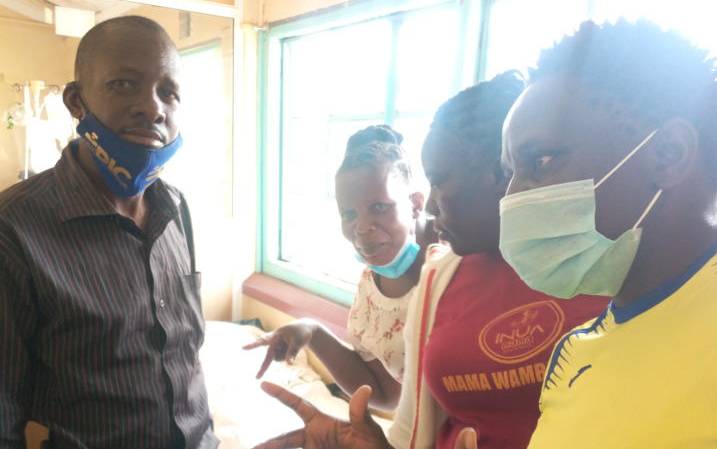 Saleh Wanjala, popularly known as Bungoma's 'James Bond' died on Monday.
Wanjala acquired the nickname after hanging on airborne chopper that was ferrying body of the late businessman Jacob Juma four years ago.
News of Wanjals's death spread like bushfire with neighbours and friends thronging Bungoma County Referral Hospital where he died to find out what had happened.
Read More
Wanjala was being treated at the facility before breathing his last. A huge crowd flocked at the hospital to catch a glimpse of the man, who survived a fall after dangling on a chopper that was airborne back in May 2016.
The chopper that had Juma's body had landed briefly at Posta grounds in Bungoma town for viewing, offering a curious Wanjala opportunity of lifetime to 'fly '.
In videos that were widely circulated, Wanjala was seen hanging on the chopper as it took off before dropping to the ground.
Some of the patients who were with him in the ward recall Wanjala asking for a glass of water and started foaming at the mouth moments later.
"He took the water and went back to sleep only to start foaming minutes later," said a patient.
Wanjala died a pauper despite getting many false promises from politicians who pledged to give him a job and build him a house to ensure he lived a good life.
Bungoma businessman turned politician Joseph Waswa offered a return air ticket to enable Wanjala fly to Nairobi and back.
In an earlier interview, before his demise, Wanjala told journalists how happy he felt landing at the Jomo Kenyatta International Airport (JKIA) aboard a KQ flight and later being driven away in sleek cars to a Karen hotel where he spent three days.
John Wekesa, a neighbour of Wanjala, said the deceased has been living a lonely life in at Mashambani Estate.
Wekesa said Wanjala had of late been addicted to alcohol and in most cases he would prefer using the little money he got from well-wishers to buy 'changaa' instead of food. Wekesea added that on they found him unconscious in his house and rushed him to hospital.
"Wanjala had no wife and he was living alone in a rented house at Mashambani estate. We found him lying on the floor and unconscious. We rushed him to Bungoma County Referral Hospital but he died a few hours later," said Wekesa.
Bob Chazima, another neighbour, claimed the deceased he sustained life threatening injuries on his spinal cord that has kept him in and out of hospital for the last four years after the incident.
"When he jumped from the chopper he got injured and afterwards, the government promised to compensate him but nothing happened up to now," said Chazima.
Wanjala arrested
Mr Chazima was his key witness after he was arrested and charged with an offence of impairing the safety of an aircraft causing an emergency landing contrary to section 46(1) B as read together with section 42 of the Civil Aviation Act No. 21of 2013.
He was out on bond of Sh30, 000, money that was paid by a well-wisher. He was represented by lawyer Andrew Kituyi on proborno basis.
Wanjala who is a father of a grown up daughter was set free in March 2019 after the court dismissed the case on grounds that it lacked sufficient evidence. He divorced his wife many years ago.
"There is no evidence whatsoever to help sentence the accused person because he never caused disturbance to the pilot or those on board," read Bungoma Principal Magistrate Charles Mutai, while dismissing the case on March 20.
A few months later, the deceased was in the news again after his landlord threatened to evict him over a Sh2,400 rent arrears of six months. He used to pay Sh400 for his one roomed mud house at Mashambani Estate.
In an earlier interview with the deceased, he revealed that after cheating death, the incident left him with a partially dislocated backbone and his right hand is paralysed, forcing him to take painkillers on a daily basis.
He said that he can no longer work due to his condition and has been forced to solely rely on his stepmother and well-wishers.
According to Wanjala, on the day he day he hanged on the chopper, he was a bit tipsy and cannot remember what exactly happened.
"On that day, I took lunch at my stepmother's house and proceeded to a drinking den where I took some busaa with my friends, before proceeding to Posta grounds to see the body of Jacob Juma,".
He said as the chopper landed after which they milled around it and when it took off, he found himself stuck and up air on air. He said, "I found myself in the air,"
His stepmother, Mama Everlyne Namusia, said she has been living with Wanjala since he was 12 after his mother died but at the time of Wanjala's death, she was nowhere to be seen.