Police teargas Western leaders in Malava sub-county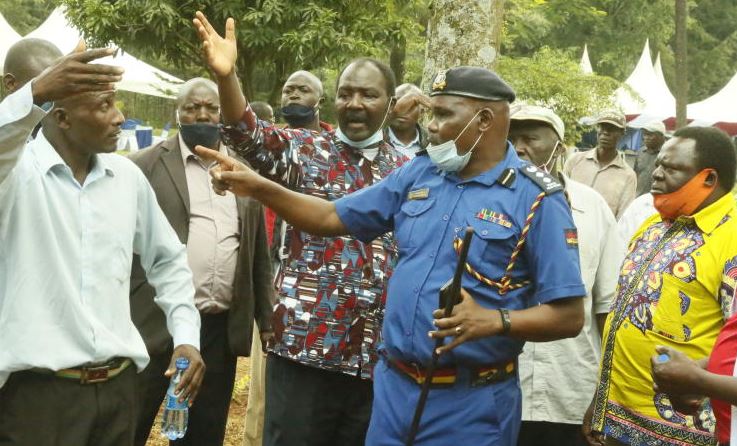 Western Kenya is suddenly in the news catapulted by one coup, a looming toppling of a party leader and a hostile security machinery teargassing leaders while others criss-cross the region inspecting development projects.
Embattled Ford Kenya leader Moses Wetang'ula has twice been hounded out of Bungoma even as he fights to retain the party leader's tag. On the contrary, his adversaries have been escorted by security agents as they met the people while breaching the Covid-19 regulations.
Although Amani party leader Musalia Mudavadi has not yet visited the restive region, political fires have been lit under his feet by some elements, who want him relieved of party leadership.
And in the middle of all this, there is still talk of pursuing the elusive Luhya unity even as the region's most illustrious sons battle for the soul of the Mulembe nation.
As he fled from plumes of choking teargas yesterday, Mumias East MP Benjamin Washiali pointed out the injustice perpetrated by the police, who he accused of applying double standards by preventing his colleagues from attending a meeting at the home of Malava MP Malulu Injendi.
"We have not seen the police disrupt meetings being held by Devolution CS Eugene Wamalwa, Governor Wycliffe Oparanya or Cotu Secretary General Francis Atwoli. We would like to be respected as a region," Washiali said.
There was outrage on May 30, when Atwoli hosted dozens of Western leaders in his home in Kajiado at a time the government had prohibited social gatherings so as to control the spread of Covid-19.
The Kajiado meeting was the harbinger of ill tidings for Wetang'ula following the emergence of a splinter group by the party secretary general Eseli Simiyu, who has since declared Wafula Wamunyinyi as the party leader.
In what is now becoming a trend, chaos reigned in Malava, Kakamega County yesterday when Washiali and a group of MPs from Western attempted to hold a meeting.
Public meeting
Trouble began when the lawmakers started arriving at Malulu's rural home in Lugusi, attracting a huge crowd that camped by the fence demanding to be addressed by the leaders.
Police teargassed the legislators as they gathered in tents erected in the compound, forcing them to scamper for safety by jumping over a barbed wire fence into a nearby sugarcane plantation. A young girl, who was among those on standby to serve food, inhaled the harmful fumes that left her unconscious.
In a scenario similar to what transpired in Bungoma where police lobbed teargas at Wetang'ula's homecoming entourage during his return on Friday, uniformed police barricaded all roads leading to Malulu's home and many leaders were forced to make a U-turn due to the multiple road blocks.
Journalists were also forced to identify themselves at every single road block to the venue.
Kimilili MP Didmus Barasa engaged the officers in a heated exchange prompting the police to use force to disrupt the meeting, which Malulu said was meant to be a come together for them.
"It is sad that the police would throw teargas at leaders who were not engaging in anything wrong. A girl had to be resuscitated in my own bedroom following the pandemonium. I would like the law to take its course," said Malulu.
When asked whether other senior politicians such as Deputy President William Ruto were expected, Malulu said it was a meeting meant for western leaders and Wetang'ula was to attend.
Denied passage
Politicians who were stopped from accessing the venue were Wetang'ula, Sabatia MP Alfred Agoi, his Nambale counterpart John Bunyasi, and Bungoma Woman Rep Catherine Wambilianga, among others. Their vehicles were not allowed beyond the road blocks and police intercepted those who tried to use shortcuts.
Barasa managed to beat the police barriers as he rode on a motorcycle to the home.
Also present was former Kakamega Senator Boni Khalwale, who on sensing danger, left the scene moments after confrontations between the police and the politicians started. For some time, Khalwale was being pursued by police after he was accused of flouting government regulations by holding a public meeting.
Kakamega North sub-County Police Commander Peter Mwanzo had a rough time engaging the legislators, who looked agitated at the officers' actions.
"It is not proper to storm someone's home and throw teargas at people. We have children in this home. If you don't want us to hold a meeting here it is fine, we shall go," Bumula MP Mwambu Mabonga said.
Wetang'ula, who spoke in a separate function at the requiem mass for Sophia Monyo, mother to Luanda MP Chris Omulele, said he was ready to work with Mudavadi to ensure they secured power.
"Musalia and I are looking for leadership of the country. Let no one come here to lecture us on who to support or not. We have been supporting other people wholeheartedly, yet they do not want to give us a hand," he said.
The leaders vowed to convene other meetings in future, arguing that the law cannot be applied selectively.