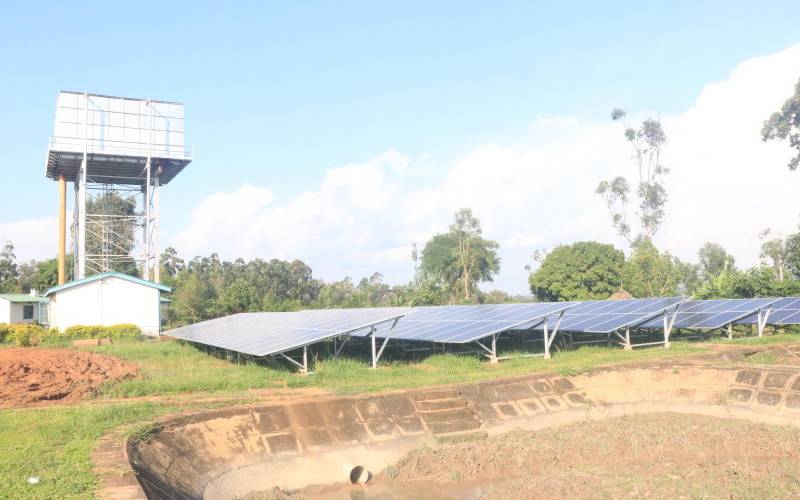 Exorbitant electricity bills and frequent outages that lead to disruption of water supply in key Busia County institutions have prompted Governor Sospeter Ojaamong's administration to embrace solar energy to pump water.
According to Chief Officer-in-charge of water Moses Weunda, the county government spends an average of Sh30 million on electricity bills in one fiscal year.
He further maintained that the green energy will ensure a steady supply of water round the clock and will reduce expenditure on power bills.
The county has often than not been at loggerheads with Kenya Power whenever the latter disconnected power that pumps water to health facilities, government institutions and homesteads.
"We have found ourselves in a fix on many occasions after Kenya Power disconnected power because we have delayed settling the debts and this leads to interference in the supply of water," said Weunda.
"The county has to receive money from the Central government and in the event there is a delay in remittance of money to us to help us pay bills, we end up having no options but to wait until we get," he added.
The Chief Officer was speaking during the handing over of the Sh14 million water project to the contractor in Butula yesterday.
Already water plant located in Mundika which supplies water to Busia town and its environs is using solar panels.
The push and pull in March forced Ojaamong to plead with the management of Kenya Power in Busia to reconnect supply in Bunyala Northward in Budalang'i Constituency.
Ojaamong at the time noted that it was wrong for the locals to lack water when they were needed most to wash hands frequently.
Kenya Power had disconnected electricity at Sisenye Water Supply over Sh3.3 million debt. Sisenye project supplies water to Budalang'i market, Mundere, Sifugwe, Bumbe, Sisenye, and the Masinde Muliro University campus in Budalang'i.
It is against this backdrop that department of water has embarked on the installation of solar panels in water points across the county noting that it was affordable and reliable.
"We have started feeling some changes in areas we have so far installed the panels, we expected to reduce the expenditure on electricity bills by half," said Weunda.
Meanwhile, residents of Budalang'i will continue accessing clean water from the county government. Most of the water sources in the constituency got contaminated because of floods that wreaked havoc.