Top security bosses meet in Malaba over truck drivers' crisis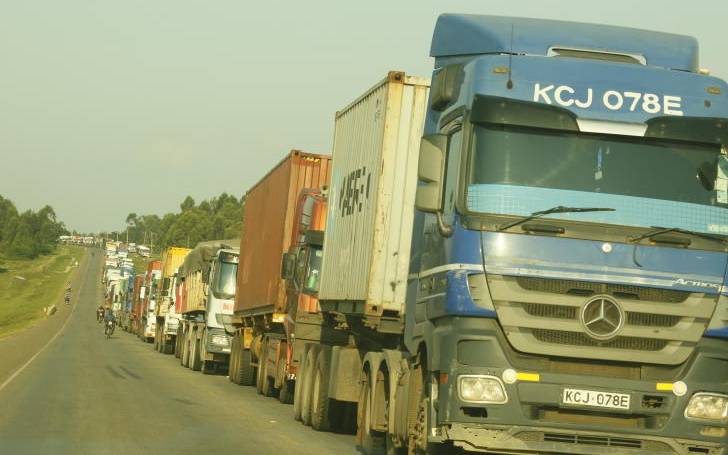 Top security Kenyan officials flew to Malaba border Tuesday morning to solve a building crisis after truck drivers refused to drive on, blocking roads as they protest what they term as harassment by Ugandan authorities.
The drivers have blocked roads for days and are demanding intervention from Nairobi.
A team of security officials led by Administration Police boss Noor Gabow and General Service Unit (GSU) commandant Douglas Kanja hope to solve the crisis. They were accompanied by almost a dozen mechanics to help in removing the trucks intentionally parked on the roads.
A senior officer in the team said the protests amount to economic sabotage and hoped to solve the problem.
"We may be forced to remove them one by one to a safer place as the issues at hand are being solved," said the officer.
The drivers parked fuel tankers at the border last week, blocking entry and exit of any truck from Kenya and Uganda in protest against the working conditions that they claim are hampering their operations especially in Uganda.
Majority of the drivers have gone without food for several days and spent a lot as they wait for their coronavirus test results at various border points.
Cargo trucks too lined up in four lanes, completely sealing off the Bungoma-Malaba highway between Malaba and Amagoro, a distance of about seven kilometres.
Some travellers between Malaba to Bungoma have been forced to use boda bodas.
Truckers demand assurance from President Uhuru Kenyatta and Ugandan President Yoweri Museveni that what they call the constant harassment they get while in Uganda will stop.