Kakamega Governor Oparanya closes mortuaries, wants immediate burials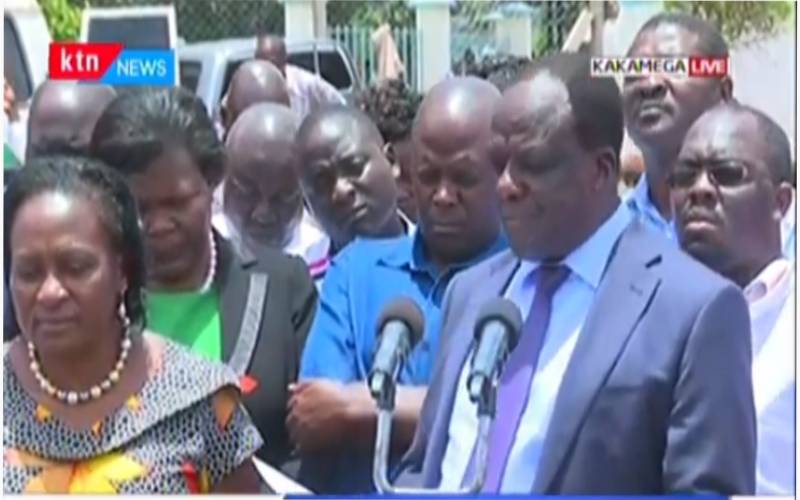 Kakamega Governor Wycliffe Oparanya has closed all mortuaries in his county for 30 days.
Addressing reporters in Kakamega Monday, Oparanya said the order was part of his prevention strategy against the deadly coronavirus in Kakamega.
The Governor asked residents who had the bodies of relatives in the county morgue to urgently collect them free of charge.
''All bodies at the mortuaries should be collected by family members as soon as possible. We have waived all mortuary expenses. So the bodies should be collected without a problem,'' Oparanya said.
Oparanya further directed that families should hold burials immediately until the pandemic is contained.
"For now, no bodies should be taken to the mortuary. We will facilitate the community so that we ensure that the bodies are being disposed of as quickly as possible," he directed.
He closed all open markets with immediate effect.
The Council of Governors chairman also ordered the total ban of weddings in his county, until further notice, adding that all nightclubs are to observe an 11 p.m. curfew.
Opranya also directed that any public vehicles passing through the county to ensure that they provide sanitisers to the members of the public that board.
"Before the passengers aboard the vehicles, they have to clean their hands," he said.
Oparanya said that he would be addressing his county and updating residents regarding the virus after every 48 hours.
His latest directive comes a day after the national government confirmed two more cases of the virus in Kenya, bringing the total number of COVID-19 cases in Kenya to three.
Speaking from outside his Harambee House office on March 15, President Uhuru Kenyatta among other measures, announced that suspension of learning in all institutions in the country.
So far 173,117 cases have been reported around the world with 6,664 recorded deaths.