Sombre mood as school reopens after last week's fatal stampede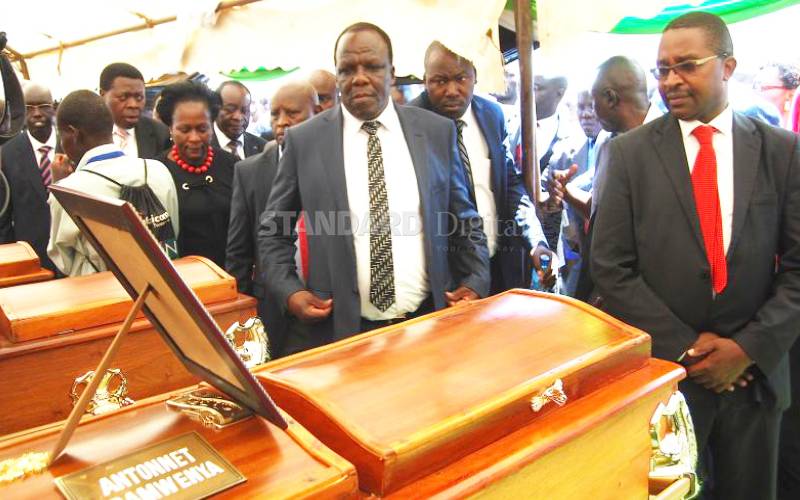 Kakamega Primary School reopened yesterday after last Monday's stampede that left 14 pupils dead and another 46 injured.
This comes amid claims that the deadly stampede was caused by a pupil who tried to block his colleagues along a staircase on the second floor of a three-storey building.
Pupils who narrowly escaped death during last week's stampede blamed one of their own for the tragedy.
One pupil is fighting for his life at the Intensive Care Unit (ICU).
Those who died are Antonatte Khayumba, Prudence Eliza, Catherine Aloo, Prince Vermaline, Nichole Achola, Venesa Andeso, Fidel Kumbetie and Simon Waweru. Others are Samuel Simekha, Lavenda Akasa, June Nakhumicha, Joseph Mutsami, Bertha Munywele and Nailah Kiverenge.
"He has a tendency of blocking pupils from descending the staircases during lunch time and after classes," said one of the pupils who survived the stampede.
Staircase commotion
The pupil was narrating the ordeal to counsellors at the school yesterday.
"Other pupils came out of their classes to see what was happening. But things got out of hand when another pupil shouted that the three-storey building was collapsing and that the commotion at the staircase was caused by pupils running for their safety," he claimed.
According to the pupil who lost two friends during the incident, everyone ran for the stairs as soon as the rumour started, leading to the stampede.
He said no teacher was around to help the pupils get out of the building without causing commotion since they were holed up in a meeting in the staff room.
"Pupils who were behind me pushed. I fell down the staircase and many others fell on me. The next thing I knew I was surrounded by my father and mother at the Kakamega County Teaching and Referral Hospital," said the pupil.
The police are, however, yet to give the official report on what caused the stampede.
"We are finalising our investigations and the report will be out before the end of this week. We don't need a commission of inquiry as suggested by the politicians as we got crucial information on what might have led to the stampede," said David Kabena, the Kakamega Central Sub-county Police Commander.
The school was re-opened yesterday after a one-week closure ordered by the Education Cabinet Secretary George Magoha.
Parents who trooped to the school compound with their children yesterday first held interdenominational prayers.
The prayers were led by Bishop Benson Shishia of Church of God, Father Martin Chibole of Kakamega Catholic Diocese and Sheikh Idris Mohammed, the chair of the Council of Imams and Preachers of Kenya in Kakamega County.
A spot check by The Standard has established that at least 50 parents, especially those with pupils in Standard Four, Five and Six, had transferred their children to other neighbouring public schools.
"My child requested that he be transferred to another school. He is so traumatised that when he hears someone mentioning the name of the school, he starts trembling," said a parent of a Standard Five pupil.
Another parent said his daughter has been experiencing nightmares after one of her classmates died in the stampede and can only sleep with the lights on.
"My daughter has been telling me that her friend who died appears to her in her sleep and tells her to follow her to paradise. She can't sleep alone and lights must be on the entire night. She sleeps with us in our bedroom so that she does not cry at night. She has also lost appetite," said one parent.
Some pupils disclosed they are afraid of going back to their classrooms.
Haunting experience
"I can't go back to that class again or take lessons in a classroom that is in a storey building. I have visions of my friend who died during the incident. She keeps appearing in my sleep. I can't stand this anymore," said a class Five pupil.
She said many pupils fell on top of her during the stampede and that the last thing she remembers before waking up in a hospital bed were pupils scrambling down the staircase.
Stephen Barongo, the Western Regional Education Coordinator who attended yesterday's prayer session, assured parents that the ministry would ensure that all pupils, teachers and parents undergo counselling until they recover fully from the trauma.
Meanwhile, two survivors of the stampede have left the ICU. According to the Kakamega County Referral Hospital administrator Titus Mumia, the girl and boy were set to be transferred to the general medical wards after responding well to treatment.
The two were admitted in the ICU last Monday in critical condition. But according to Mr Mumia, they were now out of danger.
"The girl is still under observation, but she will be moved to the general ward tomorrow," he said.
"We hope the two will get well soon," he said.
Three other children who had been admitted in medical wards have been discharged.
Kakamega County paid hospital bills for the pupils who were admitted with injuries.