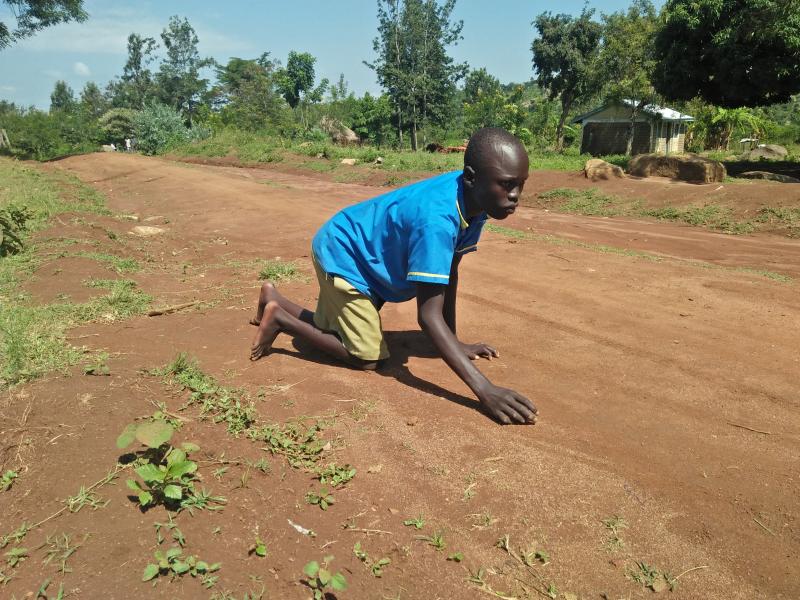 Ancient Greek Philosopher Aristotle once said: "The roots of education are bitter, but the fruit is sweet". Few understand the true essence of this phrase like Gilbert Otyeng, a 16-year-old Standard Four pupil who has to crawl for about 1.5km to school every morning. He is a pupil at St Dominic Aderema Primary School in Teso South constituency, Busia County. It was a few minutes to 1pm when The Standard team arrived at the school, yesterday. As we walked to the head teacher's office, the bell rang signalling lunchtime.
Torturous journey
The pupils came out of their classrooms, heading home for lunch. At this point this writer's curiosity was piqued and he peeped through the window to catch a view of Otyeng crawling out but he did not see him. Mr Mathew Karani, the head teacher, confirmed that indeed Otyeng was his pupil. No sooner had Mr Karani responded than the boy emerged from class. "There he is," he said. At lunchtime, he crawls back home then makes the torturous journey back for afternoon lessons. In the evening, the story is the same. This means the teenager, who dreams of becoming a doctor, crawls for 6km every day. So between Monday and Friday, Otyeng crawls for 30km. And when it rains, it becomes double tragedy for the boy. Otyeng narrated how difficult his life has been for the past 11 years. He said his legs became paralysed at the age of five. "It has been a painful experience for me, waking up very early to crawl to school. I have to return home for lunch, go back for afternoon lessons then in the evening I go home," said the boy. "Otyeng got disabled when he was five years and since then, things have never been the same again for my son," said his mother, Rosa Pali. Otyeng is Ms Pali's seventh child in a family of nine. The family appealed to well-wishers to help him join a school for the disabled or buy him a wheelchair. His favourite subjects are science, English and mathematics. He crawls for about 30 minutes before he reaches school. "Sometimes, the road is too muddy because of rain but I have to go to school," he said. Karani said they allow Otyeng to report anytime in the morning because teachers understand his situation. But the boy is never late for school despite the school being lenient on him. "He is always at school by 8am no matter the weather," said Karani. His mother wishes he could have his lunches at school but she cannot afford it.
Empty promise
Pali recalled how some people from an association she refused to name visited her in their Kangaleta home in 2016 and promised to enlist Otyeng as a disabled person so that he could get assistance. "They asked for Sh750 before they could enlist my son. I sold some cassavas, got the money and gave them. I have not heard from them since," said Pali. St Dominic Aderema Primary School sits on hilly terrain. It has no playground and infrastructure is limited. Teachers work in tough conditions. Most of the teachers live more than 20km away. "The ministry should consider giving us some hardship allowance," a teacher said.