Warders arrested with schoolgirls at Kakamega liquor store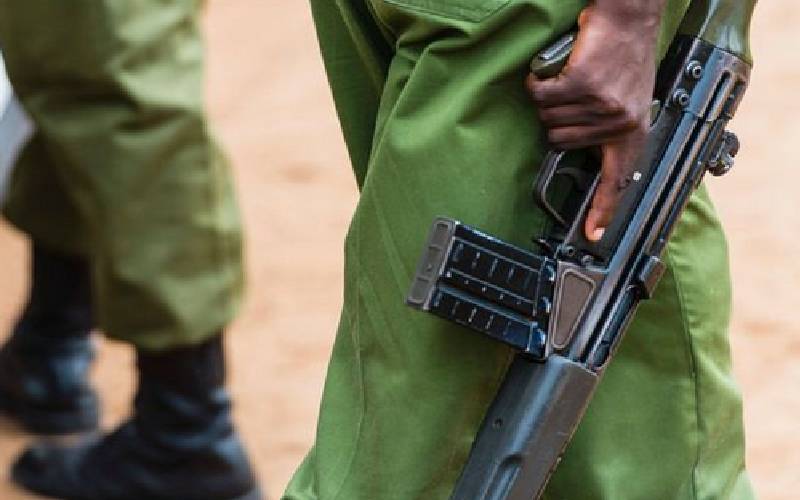 Two prison warders found entertaining schoolgirls at a liquor store in Kakamega town have been arrested.
One of the warders reportedly attacked an Administration Police officer at the post where they had been booked.
An eyewitness said the warders told off the AP officer who inquired why they were entertaining the minors at the pub.
"He (the AP officer) asked the warders together with the two girls to accompany him to the AP post where they were locked up," said Cyrus Alusa, a resident of Shirere who witnessed the events.
Kakamega police boss David Kabena confirmed the incident but denied claims that the warders were accompanied by minors.
Speaking to The Standard on phone, Mr Kabena disclosed that the matter was being addressed internally.
"It is true they (Warders) are here but we are trying to solve that matter within the prison department," he said.
Kabena said the question of whether the two girls are minors will be determined by doctors.
"They must go to the hospital for doctors to provide proof over whether they are underage," he said.
Residents said one of the warders requested to be allowed to visit the toilet before pouncing on the unsuspecting AP officer who was keeping guard.
"The suspect got hold of the officer's neck before wrestling him to the ground even as the latter gasped for breath," said a boda boda rider who was at the scene.
Members of the public present intervened and rescued the AP officer who had been overpowered by the warder.
"We also managed to catch up with the other warder who attempted to escape and forced him back into the cells," said one of the residents.
Mr Alusa said prison warders have made it a habit to entertain school girls in pubs at Shirere and Amalemba estates.
"We would like Interior CS Fred Matiang'i to intervene and if possible to have the prison facility relocated to Shikusa," said Alusa.
Residents argued that it was not proper for the officers mandated to enforce the law to be the ones breaking it.
"Where do they want us to hide our school girls, something must be done to stop this madness," said Alusa.
Mr Kabena promised to issue a comprehensive statement about the incident later.