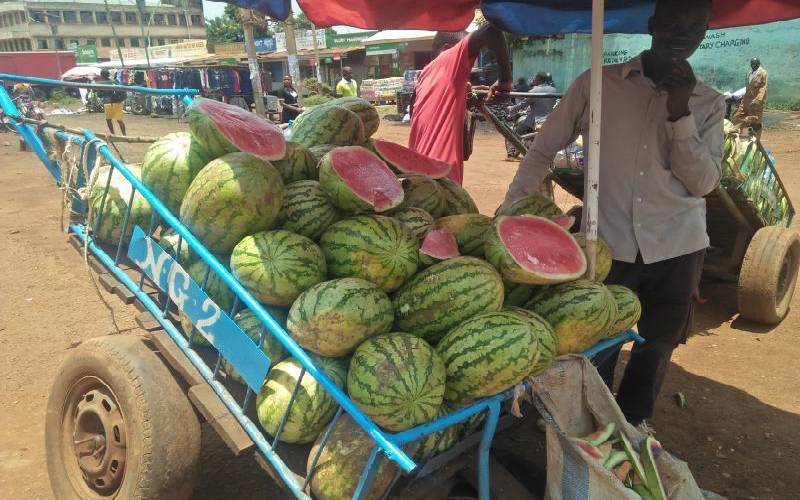 Residents of Teso South constituency who used to earn a living farming watermelons are no longer at ease.
During harvesting season, the farmers would receive buyers from across the country. The money earned helped them to pay school fees for their children and put food on the table.
But things have changed for the worse owing to what locals say is unfair competition from farmers in Uganda.
Tonnes of watermelons are brought into the country through the porous border of Sofia. Small-scale traders then hawk the fruits in carts while buyers from outside the county load their pick-ups and lorries with the fruits.
Disgruntled farmers from Kaliwa, Amukura, Okatekok told The Standard that their livelihoods are being threatened.
They painted a picture of helplessness even as they clung onto hope the Government will save them by barring "excessive" importation of the fruits.
Some disclosed that they had invested heavily during the planting season in the hopes of making a killing, but they were now struggling to find buyers.
David Opeta said he has five acres of watermelons in Kodedema, Kaliwa, but is unsure where to sell them.
"The market has been destroyed by farmers from Uganda who are bringing their watermelons in bulk into the county every morning and selling them very cheaply," he said.
It is believed that farm inputs in Uganda are more affordable hence the low prices.
"The price of watermelon seeds and chemicals applied to the fruits is lower compared to what is available in Kenya," said Robert Karani, a farmer.
A quick survey revealed that while Kenyan traders were selling one melon for between Sh150-Sh170, their Ugandan counterparts were selling the fruit for Sh100.
The Standard was unable to get a comment from Agriculture Executive Moses Osia after calls to him went answered.
But it is not only watermelon farmers who are feeling the heat of competition from Ugandans. Most of the fishmongers in the county have abandoned the business, claiming they are being short-changed.
The traders used to buy their fish from fishermen in Lake Victoria for sale in Budalang'i and Nairobi.
They now say Ugandans have taken over the market and ferry their fish to various towns in Kenya using public service vehicles.
Jane Anyango, one of the few remaining traders, said she has sold fish for years at Busia market located a few metres away from the Kenya-Uganda border.
"The fish traders from Uganda have denied us a market. Most of my colleagues have closed their businesses," she said.
Anyango wondered why Ugandans were being allowed to cross into Kenya to conduct business, but Kenyans were harassed whenever they moved into the neighbouring country to sell their goods.