Laptops, projectors stolen as gang raids schools in Matungu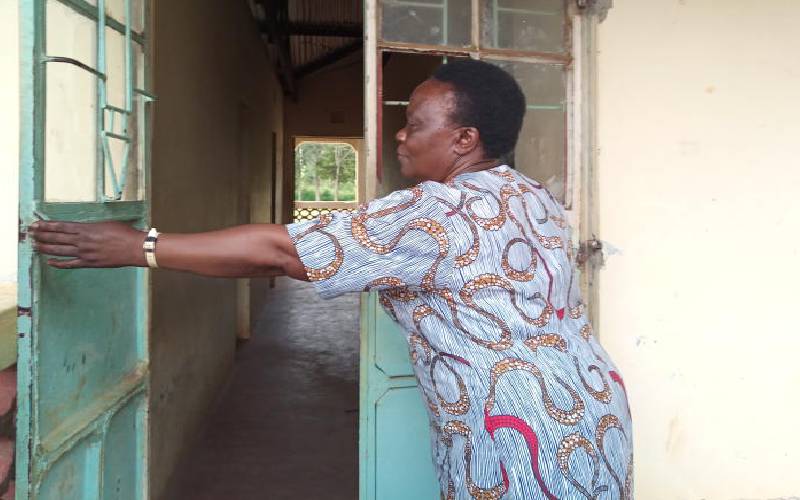 Two primary schools in Matungu, Kakamega County are counting losses after their offices were broken into and laptops and other electronic gadgets stolen on Thursday
Night guards at Bulimbo RC and Shiyabo primary schools have been questioned after electronic gadgets for the government's school Digital Literacy Programme were stolen in an unclear circumstance.
In the two incidents, thugs broke into head teacher's offices, deputy head teacher's offices and the computer laboratories and made away with 15 laptops, two projectors and a printer.
According to Bulimbo Primary School headteacher, Miss Edith Nato the theft was discovered by a security guard who was on duty but claims he was chased away by the gang of four.
The gang managed to get away with one projector and a printer and destroyed properties and files at the offices.
"We found financial documents and other properties in my office scattered everywhere and we estimate the loss to be over Sh100, 000," said Nato.
The watchman only reported the theft in the morning at the neighbouring police post.
"We asked him why he didn't run to the police post that is just over the fence but he couldn't explain," said Nato.
The watchman was interrogated by the police and released.
500 metres away at Shiyabo Primary school, the headteacher Tabitha Saisi was also counting losses after the same gang broke into a room where laptops are kept and stole 15 computers, a projector and routers.
According to Saisi, she was informed by the area village elder on Friday morning about the raid.
At the school, they stole 15 laptops and a projector, Wi-Fi router and smashed several windows before leaving.
Saisi night guard told the police that the gang pounced on him at around midnight tied him on the tree before stealing the items.
The watchman could not explain who untied him and why he didn't report the case immediately until the following morning when he alerted the village elder.
The school had 80 laptop gadgets but the thieves only selected 15 leaving the rest behind.
The school watchman is currently being held by the police for questioning.
It's not the first time schools in the area have reported cases of burglary and theft of properties.
At Bulimbo Primary School the head teacher said they have had three previous cases of theft but no one was arrested and charged for the offences.
"Few years ago they broke into the school and made away with a sack of beans meant for school feeding progamme," said Nato.
Matungu police boss John Mastili said investigations were under way.