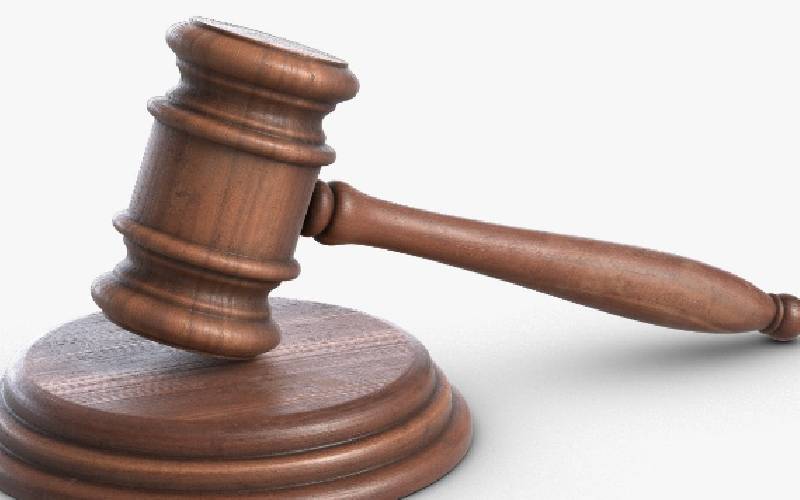 A man serving a 20-year jail term for defiling his 15-year-old daughter in an alleged 'virginity test' has asked the High Court to acquit him saying there was not DNA analysis to link him with the offence.
The convict, abbreviated by letters JKO told Judge Hedwig Ong'udi yesterday that the trial magistrate erroneously relied on the testimony of one witness.
He further submitted that he was charged and convicted on a wrong section of the Sexual Offences Act and charged with defilement other than incest.
JKO was found guilty of defiling the Form Two student on September 16, 2016, after she was sent away from school to get the fees.
The trial court heard that the complainant had arrived home at 11am only to find his father alone at their Shirere home, Kakamega Central District.
She informed JKO her reasons for being home during school hours. The father ordered her to give him water to quench the thirst, which she gladly did.
She later proceeded to her bedroom to change her uniform but was followed by JKO to her bedroom where he found her half-naked.
JKO said he wanted to confirm if she was still a virgin or had lost the same. He threatened her with dire consequences if she dared to scream.
The complainant narrated her attempts to resist were futile as his father touched her indecently before sleeping with her.
She later opened up to her stepmother in the evening but she took no action.
She resumed to school on September 19 but fell sick days later where her uncle was called to rush her to hospital.
She was rushed to Khayega Health Center but the nurses advised that she be taken to Kakamega County General Hospital which had a laboratory.
Clinical officer Patrick Mambiri confirmed there was a whitish discharge on the girl's private part and medical tests confirmed there was penetration.
The uncle who was called as a prosecution witness dismissed the existence of a possibility of bad blood between him and JKO saying medical documents corroborated defilement allegations.
The prosecution is said to have proven defilement took place, adding that JKO was unrepentant and unremorseful after he opted to remain silent even when he was accorded a chance to tender his mitigation.
But in a new twist, JKO wants the upper court to quash the conviction and set aside the sentence on grounds that the evidence on record supported incest.
The Director of Public Prosecutions (DPP), although he acknowledged the anomaly maintained the charge did not occasion a miscarriage of justice or prejudice the appellant.
Through prosecutions counsel Oliver Mwaura, the DPP asked the appellate judge to dismiss the petition and uphold the sentence.
Justice Ong'udi slated the judgment for October 1.