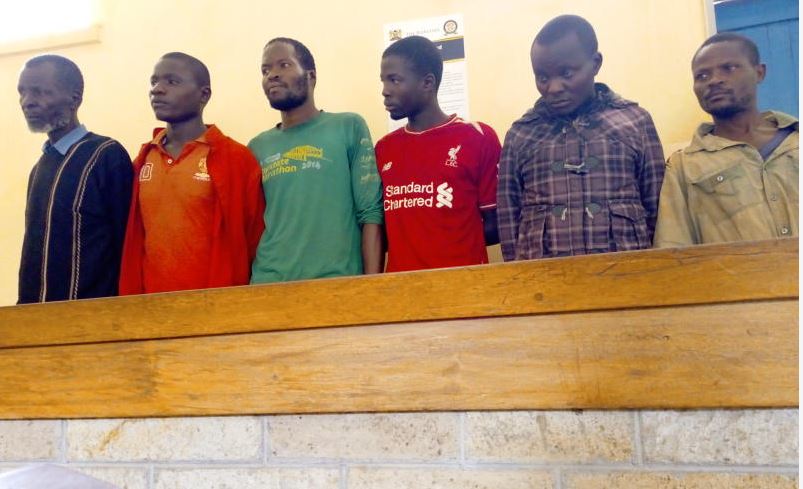 Police are holding 15 suspects in connection to the recent Matungu killings.
The 15 are been treated as primary suspects in the killings that have caused havoc in the area for the last two months with the number of deaths standing at 21.
The suspects were arrested from the day Interior Cabinet Secretary Fred Matiang'i sanctioned an operation to weed out the terror gang.
"The 15 suspects are among those apprehend in the last one week after we started this operation," said Western Regional Coordinator Ann Ng'etich.
Ms Ng'etich said they were making efforts to ensure that the cases against the arrested are successfully prosecuted.
Read More
Among the 15 is one arrested connection to the Sunday chilly killing of a seven-year-old boy at Simba wa Nyika village. Ng'etich termed the killing of Malik Moi unfortunate but assured the residents of more police patrols and the return of calm.
Ng'etich was speaking today after she led the regional and county security team meeting at Matungu.
Among those present was Western Regional Police Commander Rashid Yakubu, Kakamega County Commissioner Abdrizak Jaldesa and the County Police boss Wilkister Vera.
Meanwhile, a week after the deployment of the General Service Unit (GSU) at Matungu, residents have faulted the operation and termed it inconsequential.
Residents claim the operation is only being carried out in open areas isolating interior villages. Areas like Mayoni, Harambee, Ejinja, Matungu shopping center and Koyonzo are feeling the presence of the officers.
The same cannot be told of Makunda, Namasanda, Itete and Namamali where residents remain fearful of the attacks as they haven't seen the GSU operations.
"We haven't seen the GSU around here at Makunda. We continue to live at the mercy of God," said Osman Omboko a local. Nyumba Kumi officials have also questioned their role in helping to flash out members of the killer gang.
"Matiang'i brought officers in the area but they have not involved people like village elders or community policing to show them the terrains," said Kassim Namasti, a community policing member.
Businesses are also closing shop as early as 5pm in fear of the operations.
Mary Mukwana, a hotel owner at Ejinja shopping center, said since the kickoff of the operation she has been closing her business earlier to avoid confrontation with the police.
"Business has gone down as our customers who used to come for evening meals are running early from this market centers for the fear of GSU," said Mukwana.
Silas Mukamani a bodaboda operator at Ejinja said he once encountered the officers who were armed with clubs forcing him to leave his motorcycle and seek refuge in a sugarcane plantation.
"I was coming from Ogallo yesterday and meet this officers, I had to jump off my bike and run as they were arresting people on road with no mistakes," said Mukamani.