House leadership wrangles rock Mudavadi Amani party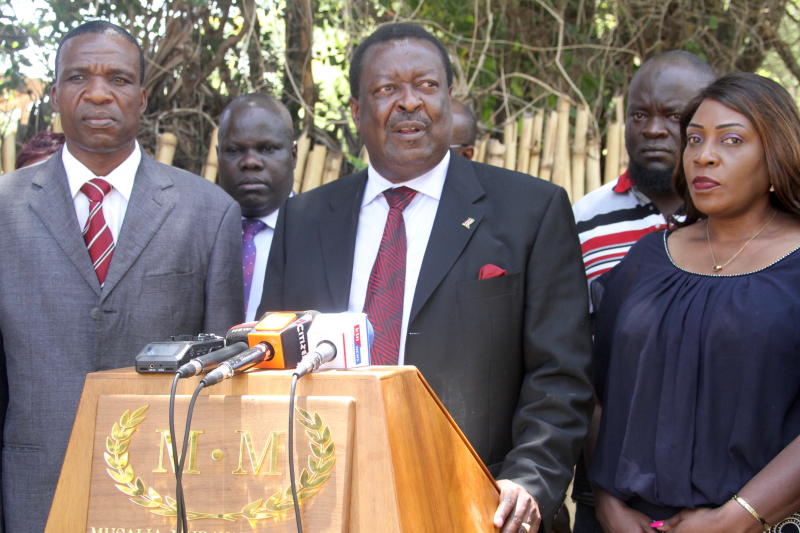 Infighting has rocked Amani National Congress party leadership at the county assembly.
The party, with 29 members forming the minority side in the assembly held a meeting at a Kakamega hotel last week where the conduct of the Leader of Minority David Ndakwa (West Kabras ) and Chief Whip Godfrey Ondiro (Marenyo-Shianda) was discussed.
An MCA who sought anonymity, said it was agreed that no change of leadership was to be effected until April 8 when the party leadership and the ward reps would go for a retreat to discuss the party's performance.
"We were surprised that after the meeting, some disgruntled MCAs again met and made changes without the blessings of the party. They even made a communication to the speaker and the party national chairman," said the MCA.
They proposed Butsotso South MCA Walter Andati as the minority leader, Kholera MCA Godliver Omondi (deputy minority leader), nominated MCA Jackline Okanya (chief whip), Kongoni MCA Josephat Mwasame (deputy whip), Bunyala West ward rep Edward Masinde as party secretary and Isukha South MCA Farouk Machanje as a member of the county assembly service board.
Making changes
In a letter dated March 15 and signed by Ms Okanya and sent to the speaker, the MCAs noted that they were making changes at the assembly claiming that the Mr Ndakwa had failed in his duties.
The changes were ratified by 19 out of the 29 MCAs.
"The inability of the minority leader to properly oversight the assembly management of which he is also a member of the service board has affected performance of the minority side," reads the letter in part.
The MCAs in the letter also claim that the minority leader was not fighting for their rights in the house. They also accused him of not calling for a meeting to evaluate their performance at the assembly.
But Ndakwa dismissed the claims, saying they are being driven by selfish interests.
"Those accusations are baseless, you cannot accuse me of not helping you get mortgage when you know the assembly lacks money. You can also not oppose everything brought to the floor of the House, we should use wisdom when articulating some issues," he said
He said even if the MCAs wanted to strip him of the minority leader post, they should use the right channels and not sideshows.
Party Secretary General Barack Muluka in a letter dated March 18, and addressed to the speaker, stated that the changes were null and void.
"ANC party headquarters has the final say, the alleged changes are acts of tragic mischief," he said.