Attacks on livestock leave residents seeking answers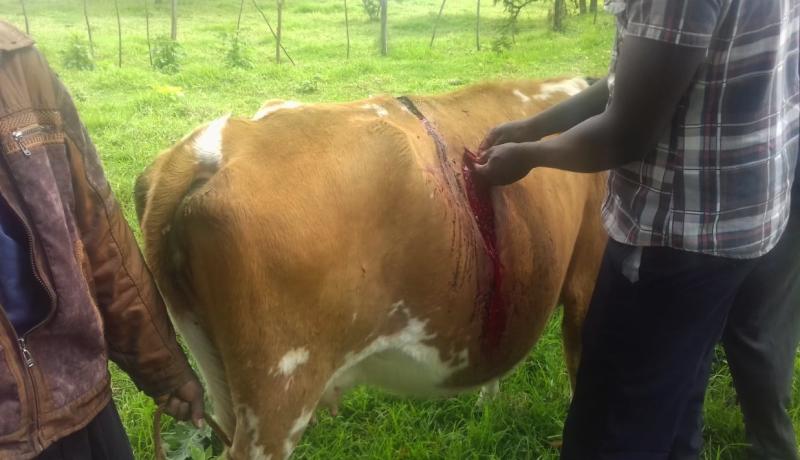 A wave of attacks targeting livestock has left residents around the county puzzled.
In the latest incident, two cows belonging to John Chumo, a resident of Chepoptaai village in Soin/Sigowet constituency, were slashed to death by unknown assailants over the weekend.
Mr Chumo stumbled on the carcasses on Sunday morning.
The attackers had tied the cows to a tree before using a machete to slash the animals' front and hind legs.
"We are yet establish who killed the cows and why," said Sigowet Chief Solomon Tum.
Last month, unknown people struck two homesteads in Kaplamboi location in Kipkelion East constituency and slashed three cows to death. Four others were left with deep machete wounds.
The assailants began their slashing spree in Paul Rono's cow shed where they killed two animals.
They slashed three more cows in the homestead before going to Reuben Kiprono's compound where they slashed another animal to death.
In January, residents of Koita-Chelimo estate in Ainamoi constituency woke up to find that a cow that was about to calf had been killed and the foetus removed.
The foetus had one of its front legs and an ear sliced off.
"The motive of the incidents is still yet to be established," said County Police Commander James Mugera.
The attacks prompted area residents to invite an elder from Trans Mara to invoke a curse on the perpetrators in an elaborate ceremony attended by all the locals.
Kills cattle
"Whenever someone attacks and kills cattle and refuses to come forward to own up and ask for forgiveness, it is normal for members of the Kalenjin community to come together and place a curse on the criminals," said the elder.
Chepseon MCA Alfred Cheruiyot said the cursing ceremony was necessary because cattle were sacred to the community.
"Cows are very important to members of the Kalenjin community and that is why they are part of dowry negotiations. The animals also provide milk, which is used in various ceremonies, among them circumcision," he said.
Myoot Council of Elders chairman Paul Leleito said attacks on cattle were a taboo.
He said whenever such an incident occurred, residents were obligated to find out who the culprits were so they could be punished.
"Someone who kills a cow is no different from a murderer because he or she is taking away the owner's source of livelihood," said Mr Leleito.
Cleansing ceremony
He said if the culprit was caught, he or she would undergo a cleansing ceremony and pay four times the number of cattle killed.
Only one suspect has been arrested and prosecuted for a similar attack.
Kericho Resident Magistrate Benjamin Limo sentenced 44-year-old Robert Kipkemoi Tirop to 14 years in jail after he was found guilty of killing his neighbour's cow last year.
The accused pleaded guilty to slaughtering a cow belonging to Bernard Kikwai on October 6, 2017.