Sirisia MP John Waluke charged with fraud in Sh297m deal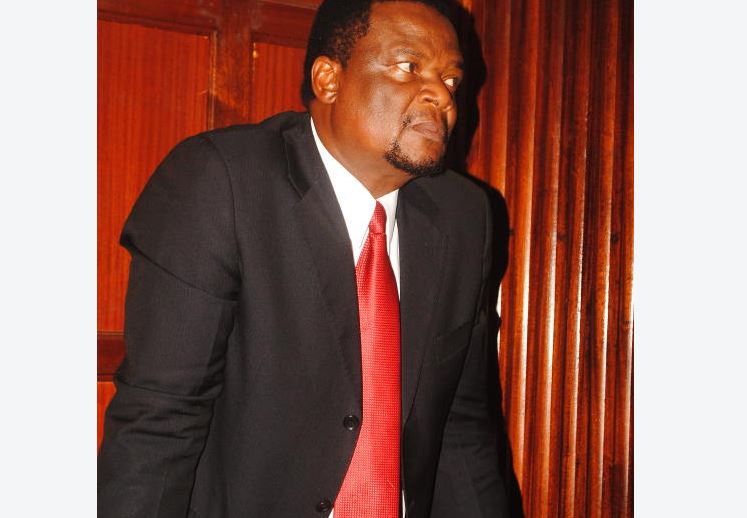 Sirisia MP John Waluke was yesterday charged with fraud involving Sh297 million in questionable maize dealings.
The prosecution alleged that as a director of Erad Supplies and General Contractors Mr Waluke made a false invoice worth Sh114, 600,000 as evidence to support a maize storage claim by Chelsea Freights.
He was also charged with fraudulently acquiring Sh297 million from the public as the cost of storing the maize, which was to be supplied to the National Cereals and Produce Board (NCPB).
He appeared before Milimani anti-corruption court magistrate Dauglas Ongoti.
The court heard that Mr Waluke and another director, Grace Wakhungu made the contested invoice in support of costs allegedly incurred from storing 40,000 tonnes of maize.
The lawmaker pensively listened to four counts of charges being read to him.
"On or about March 19, 2013 in Nairobi City County, being the director of Erad Supplies and General Contractors together with Erad Supplies and General Contractors jointly and fraudulently acquired Sh297,386,505 purporting to be the costs of storage of 40,000 tonnes of white maize, guilty or not guilty?" the charges read.
Storage fees
"Not guilty," he replied.
Erad had been in a long running battle with NCPB over a botched maize supply saga.
In 2003, NCPB floated a 180,000 tonnes of maize supply tender. Five companies were picked.
Hala General Trading LLC, Euroworld Commodities Limited and Erad were contracted to supply 40,000 each while Purma Holdings and Freba Investments got 30,000 each.
After a fallout on the payments, NCPB and Erad opted to arbitrate the issue which then escalated to the Court of Appeal. Arbitrator, Evans Thiga ruled in favour of the firm and awarded it Sh564 million as compensation for losses and storage fees.
Aggrieved, the board moved to the High Court and again its case was dismissed by Justice Leonard Njagi. NCPB went to the Court of Appeal but it equally lost.
According to NCPB the firm which Erad had contracted to supply it with maize, Ropack CC International, did not deal with maize business.
In the deal, Erad was supposed to supply 40,000 tonnes of maize, but NCPB allegedly failed to issue letters of credit to enable it import the maize.
Account attached
After the ruling, Erad attached NCPB's account held at Kenya Commercial Bank and some of its assets worth Sh297 million.
But Parliament's Investment Committee declared that Erad should not be paid as the documents it had used were falsified and invalid. The report tabled before Parliament in 2013 read that Erad was not qualified to supply the maize.