Governor Sospeter Ojaamong threatens to fire defiant medics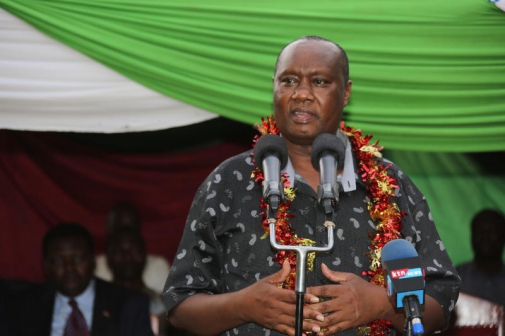 Busia Governor Sospeter Ojaamong has threatened to expunge from the payroll the names of doctors who fail to report to work.
Mr Ojaamong said since doctors countrywide had returned to work after a three-month strike, the county chapter of the Kenya Medical Practitioners, Pharmacists and Dentists Union (KMPDU) was yet to communicate officially to the health department that its members were back on duty.
The situation was further complicated when the union directed its members to stay away from the county's main referral hospital citing poor hygiene standards.
But the governor said he was not ready to negotiate with doctors anymore.
"I am not aware that the doctors reported back to work. I only heard that they were going on strike," said Ojaamong.
He said his administration would be forced to hire new doctors if there was no official communication from the union by the end of this week.
He announced that any medic who did not report to work would be fired.
"Let those who want to go on strike go ahead, but they should know we are not going to have mercy on them. Doctors should know they are dealing with people's lives," he said.
The furious governor warned doctors to refrain from politicising the county's health sector.
"We have good plans for the county's health sector. That is why there is Sh1.8 billion in the supplementary budget - to improve the sector," he said.
A quick survey in the county's main hospital revealed that the medics were yet to return to work fully.
Rosemary Onyango, whose brother was admitted at Busia County Referral Hospital with a broken leg two weeks ago, said he was yet to be attended to.
"We thought the doctors announced that the strike was over but that has not been the case. My brother has been lying in bed without treatment for the last two weeks," she said.
Meanwhile, Busia County Referral Hospital was cleaned up after Tuesday's edition of The Standard highlighted the poor state of cleanliness.
Following the story, Ojaamong toured the hospital and yesterday, County Director of Communications Winston Wafula confirmed that all issues raised by contracted cleaners who went on strike citing lack of payment had been addressed.
The strike had left the hospital uncleaned for several weeks.
"The cleaners are back at work and the hospital has been cleaned," he said.
Nairobi MCAs want budget used
Members of the county assembly have criticised the Nairobi County executive for failing to implement the budgets passed over the past four years.