Sigiri Bridge nears completion as families remember loved ones who died while crossing River Nzoia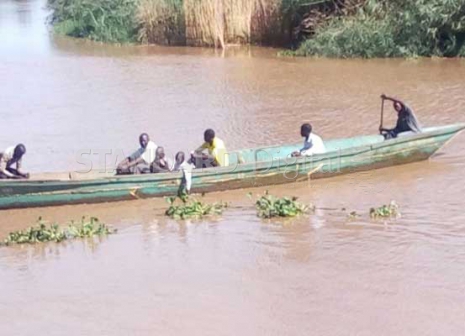 On August 30 2014, Vivian Taaka Juma lost her only child, Brian Juma through a tragic boat accident on River Nzoia.
Brian, then a Form Three student at James Osogo Secondary School was among 11 people who died when their boat capsized killing everyone on board. "It was so painful. It left me in agony. Life changed in a minute and I have never recovered from the loss," says the distraught mother.
And with the onset of the long rains expected in the next two or three weeks, residents of Budalang'i Constituency in Busia County are celebrating construction of a Sh1 billion bridge at Sigiri.
President Uhuru Kenyatta had attended the burial of Brian and other victims where he promised to ensure the bridge is constructed.
Sigiri Bridge is nearing completion and is expected to be commissioned in May. It will significantly reduce deaths and make it easier for people to access markets, schools and hospitals.
John Ochanji, a resident, is forced to cover 100km daily by road from Bunyala North to Bunyala South, a distance of less than a kilometre when one crosses the river.
He is among thousands of residents who cannot use makeshift boats to cross the river at Sigiri and are forced travel for kilometres to get to the other side. "It is hard for us to cross the river since there is no bridge. One is forced to go to Nambengele-Ruamba in Bunyala then Ruamba in Siaya County before crossing to Mau Mau. This is a distance of less than a kilometre when you cross the river at Sigiri," says Ochanji.
He continues: "The bridge is one of the projects the government has implemented and touched our lives directly. We appreciate the gesture."
There has been suffering especially for patients seeking treatment on either side of the river or relatives visiting their kin.
"Many people have lost their lives while crossing the river on boats. It has affected business since residents are forced to use a long route before reaching the market. There are no life saver jackets for those using boats," he says. Ochanji recalls the 2014 tragedy with sadness.
"It was a tragedy we cannot forget. A mother saw her children die. It was so devastating. It was not the first time for people to die while crossing the river. We have witnessed many incidents," he says.
He says construction of the bridge will make it easy for people to access markets.
Chinese Overseas Construction and Engineering Company (Covec) Managing Director Jerome Xzue Hua says they are only left with laying a concrete slab.
"There are different types of bridges and different materials for construction. The materials used in Sigiri were picked in consideration of the economic value and because model is easy to construct and maintain," Hua explains.
He assures that all construction works will meet the specifications of the design.
The government is also tarmacking three kilometres of road on both side of the bridge to enhance transport.