Tension in Shinyalu after death of ODM official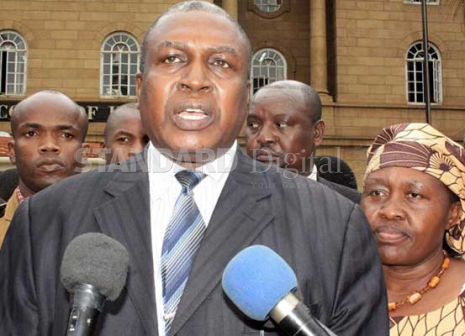 Tension is high in Shinyalu constituency following the sudden death of Martin Musonye, a local Orange party official.
Area MP Silverse Anami has urged his constituents to remain calm following claims that Mr Musonye, who served as ODM treasurer, might have been poisoned at a party meeting in the area.
Musonye is a former civic leader who represented Isukha East and is said to have died shortly after he left an ODM meeting in Shinyalu.
Addressing constituents yesterday, Mr Anami said the party had lost a staunch supporter and a committed leader who worked for the party with a lot of devotion.
However, the legislator took issue with those peddling rumours that Musonye could have been given food laced with poison by his political enemies.
Elsewhere, drama unfolded in Ebwalilo village in Mumias when a charged mob waylaid and almost lynched a man they accused of circulating leaflets bearing hate speech messages targeting certain politicians in the area.
However, police intervened and managed to rescue Gabriel Obango, 42, from the agitated crowd.
The mob accused Mr Obango, a boda boda operator, of fuelling political animosity by circulating leaflets aimed at demeaning some local politicians and their supporters.
Obango had allegedly been spotted circulating the literature by a villager who raised the alarm and attracted a huge crowd that roughed him up before the police arrived.
Witness said the suspect was waylaid by his colleagues when he attempted to flee the scene.
The leaflets were strewn on several roads in Mumias East constituency and contained the names of six politicians eyeing different elective posts in the August 8 elections.
Mumias police boss Peter Kattam said the suspect was being held for interrogation.
HOT SPOTS
Meanwhile, the national government is profiling potential hot spots in Butula constituency following intelligence information indicating there could be chaos during election campaigns.
Deputy County Commissioner Bosek Lagat said yesterday the Government was not taking lightly information it was receiving on possible chaos.
Mr Lagat said after the conclusion of party primaries, which most political outfits are expected to hold starting next month, there shall be security meetings between politicians and senior security leaders in the constituency every fortnight.
Recently, a meeting pitting politicians against security officers to discuss how to conduct peaceful elections was held in Butula.
"We have started profiling areas and individuals. We have received crucial leads that some people are planning to cause insecurity in Butula," he said.
Butula MP Micheal Onyura said he would work closely with security agencies in the area to ensure peace among locals prevailed.