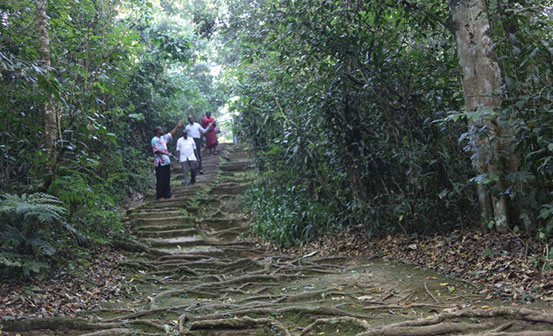 Kakamega Forest is one of the remaining true rain-forests in Western Kenya. It was once part of the Guineo-Congolian forest. It is a key tourist attraction famed for rare bird species, indigenous trees and animals.
Tourists prefer to climb Lirhanda sacred hills, situated about 1,700 metres above sea level for bird's view of the 23,000 hectares with the lion's share in Kakamega and a small stretch in Vihiga County.
Some of the better-known snake species here include Jameson's mamba, bush viper, rhinoceros-horned viper, Gaboon viper, gold's cobra, forest cobra and the black-lipped cobra.
When The Standard on Sunday team toured the forest, we spotted black and white Columbus, De Brazza's and red-tailed monkey that kept hoping from tree to tree.
Abraham Imbai, a trained conservationist from the local Isukha community, also showed us medicinal and spiritual trees. Of the 380 species in the forest, about 80 percent are regarded by locals as sacred. Also, the forest is among the best places to see the ubiquitous baboons, flying squirrels and insects of the night.
Read More
Local communities regard the Maesopsis eminii (mutere) tree, sand paper tree, prunus afrikana species with reverence. Elders converged here to "summon' rain. This also acted as (village) court stations where suspects were cross examined before being judged.
There is also the iconic Elgon Teak tree believed to be over 750 years, which Queen Elizabeth kissed when she visited the forest in the 1940s. A major concern raised by Imbai is the uncovered mines left by gold miners, which he said are not safe for those who visit the area.
However, a vertical mine running about 150 metres is home to African bat species. There are about 25 bird species as well.
Mr George Ayimo, the manager, says international researchers are frequent visitors. Locals also visit the forest. "The forest attracts the attention of more researchers from international and local universities due to its unique bio-diversity. They outnumber the locals who come to see the unique trees and animals," he says. They receive up to 200 researchers monthly.
Since a majority of the tourists are foreigners, Ayimo says accommodation has never been a challenge. Rondo Retreat, the Kenya Forest Service, Kenya Wildlife Service Wooded Bandas and Esecheno Bandas guest houses are some of the places where foreign visitors get accommodation.
Turned into an orphanage
"We have alternatives whereby communities around the forest accommodate tourists who want to experience Africa by eating the local food, drinking water from a pot, drinking porridge from calabash," Ayimo says.
Rondo Retreat is under the management of a Christian organisation and its six cottages have a capacity of 40. The picturesque retreat started as a saw mill, turned into an orphanage, a church then a retreat.
It is good for family meetings, get-togethers, honeymoons and weddings. Visitors can bring their alcoholic beverages, but the facility does not stock alcohol and there are no television sets in the rooms.
Double rooms for residents go for Sh13,000 and singles at Sh10,000 while non-residents pay Sh22,000 and 16,000 respectively. Tour guides also offer tents that can accommodate four people.
Esecheno's Five Bandas charge between Sh500 and 700 per night depending on whether the client is a Kenyan, resident or non-resident.