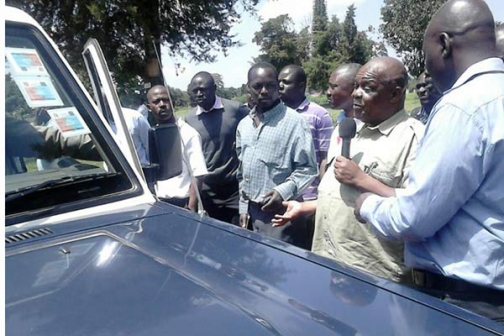 Five staff of Masinde Muliro University of Science and Technology were arrested yesterday following a strike over salaries.
Those arrested and booked in Kakamega Central police station were Prof Sammy Kubasu, Robinson Oduma (University Academic Staff Union (UASU) MMUST Chapter Chairman), Onzere Mulongo (Kenya University Staff Union (KUSU) MMUST Chairman), Aggrey Osogo (KUSU National Deputy Secretary) and Cosmas Ruto.
They were booked in the evening with the offence of "rioting after proclamation".
Also arrested were a driver and his turn-boy who offered a public address system to the striking employees. By the time of going to press, those arrested were in processing their release on bond so that they appear in court on Monday.
Read More
Among the issues raised in the strike were remuneration, implementation of a previous deal and intimidation of unions' members by the university administration.
"We have witnessed consistent harassment of our members since 2013 through spying, unfair HR practices such as endless show cause letters to them, unfair resignation, biased deployment and punitive transfers," read the unions' joint memo to Vice Chancellor Fred Otieno.
They claimed there were delayed promotions coupled with skewed job elevations.
The employees said their 2012/13 collective bargaining agreement was being selectively implemented to their detriment.
Lecturers were up in arms against the university for not paying them for teaching privately sponsored students in two academic years (2014/15 and 2015/16) the sum of which they said is about Sh250 million.
"What is so hard in paying workers who rendered their services long ago?" asked Prof O'Kubasu UASU Secretary General. He said lecturers today teach four courses per semester instead of three.
The workers read mischief in the university having many senior staff on acting capacity.
"That affects decision making at various organs of the university because the office holders work with fear and less salary. We have acting registrar (academics), an acting registrar (administration), acting finance officer, acting procurement officer, acting dean of students and acting security officer," said O'Kubasu.
Prof Otieno said said the demo was illegal as there was a court order stopping it.
"Most of the issues they are raising are lies. On remunerations everyone knows the economic status of the county, but we will pay outstanding dues."