Butere man kills mother while intervening in fight between parents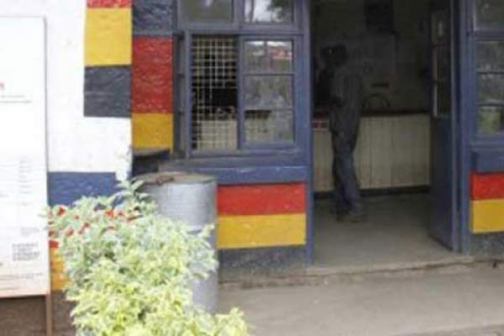 Police in Butere are holding a 27 year-old man who killed his mother while trying to intervene in a fight between his parents.
Benson Odongo threw a stool at his father, missed him but the seat landed on the mother and killed her.
The incident took place at around 11 pm and left locals at Queen Village in Eshitsitswi sub location in Butere Sub County in shock.
Odongo become angry when his parents started quarrelling over food. He tried to intervene but nothing was forthcoming. He lost his temper, picked a stool which he hurled at his father, missing him by inches. Unfortunately, the stool landed on his mother's head.
"The confrontation started after we had just had supper. Dad came back home and asked for food but I told him that we had already eaten. I asked him to give me time to prepare something. Minutes later my father told my mum in a harsh tone that he had not eaten since morning and they started quarreling." Said Odongo's 16 year-old sister.
She further noted that when the suspect who was drunk came and found the parents quarrelling, he first told them to stop.
She said her brother's appeal was ignored and he lost his cool thereafter.
"When I saw the incident was getting violent, I cried for help. My in law came running asking me what was wrong but before explaining anything, my brother hurled the stool. I became very confused and got hold of his hand. He now had picked a panga and wanted to slash my in law," she noted.
Take a quick survey and help us improve our website!
Take a survey
She took her in law who had now been injured in the confrontation and locked her in a room but his brother was still pursuing them. She said they managed to escape and ran off to the home of a village elder.
"I still can't understand why my brother resorted to such violent acts and chose not to solve the situation in an obedient manner," she said amid sob.
Confirming the incident, Imanga chief Ham Shikuku said the woman Ruth Odongo ,56, was pronounced dead at a nearby clinic.
The body was later taken to St Marys Mumias mortuary awaiting a post-mortem examination.
Butere OCPD Josephine Mbane condemned the incident saying it was quite unfortunate since life had been lost.
"We are investigating the matter as we await post-mortem results since the deceased has no physical injuries. The boy had no intention of committing murder but only wanted to separate a quarrel between the parents," Mbane said.
She added "His father will be our witness as we go on with investigations."
The father, Gerald Odongo said he came back home and asked his wife to cook for him but she said her daughter would do that.
"Suddenly my son came and asked me what I was saying. I told him I was speaking to his mother. My son pushed me down. He hit me on the head and injured me with a panga on the leg , " Odongo said.
His elder son alerted the police who arrested him.