You can't win the presidency, Anangwe tells Western Kenya leaders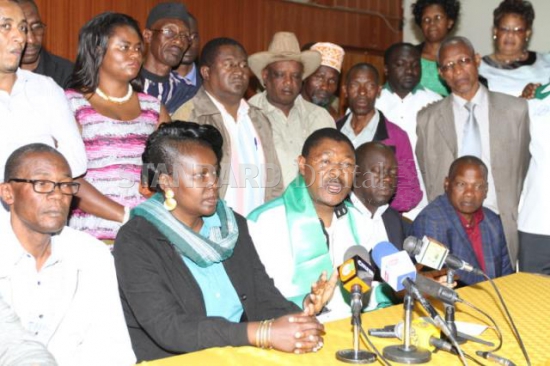 As politicians from Western accuse each other of engaging in selfish interests and making it impossible for the region to stake its rightful claim on the national political platform, the future looks bleak ahead of the 2017 presidential elections.
About 30 MPs recently gathered in Kakamega to discuss how leading politicians from the region would work together.
The region is steeped in rivalry after a group of leaders led by former Lugari MP Cyrus Jirongo and former Speaker Kenneth Marende introduced a new political outfit, United Democratic Party, to add to Musalia Mudavadi's Amani National Coalition (ANC) and FORD-Kenya's Moses Wetang'ula. Mumias East MP Ben Washiali has taken over leadership of United Democratic Forum, that was associated with Mudavadi.
During the Kakamega meeting, the leaders invited Prof Amukowa Anangwe, a political scientist who lectures at a university in Tanzania, to discuss the chances of a candidate from the region running for presidency in 2017.
Although some MPs, led by Lugari MP Ayub Savula, have been rallying for registration of six million Luhya voters, Anangwe disappointed them by bluntly explaining that the best they could get is 3.3 million voters. He was categorical that the region's chances to clinch the presidency are slim.
"From the 2009 population census, Luhya was the second largest tribe in Kenya with a population of 5,338,666, being 13.8 per cent of Kenya's population and is projected to reach approximately 6.5 million in 2017, and with a potential for a maximum of 3.3 million votes," he told The Standard on Sunday.
The Western Parliamentary Caucus had invited Anangwe to generate scholarly insights on a topic entitled, "The Political Question Facing the Luhya Community in the Run Up to the General Election in 2017."
"The Luhya's preference for the presidential candidates will depend on who they perceive he is a likely winner in 2017 because of their strong desire to be in the next government, since few communities consciously vote to be in the opposition," said Anangwe.
The man, who served as a minister in the KANU era, pointed out that the 2017 presidential race was likely to be a two-horse race, between Raila Odinga and President Uhuru Kenyatta, just like it shaped out in the 2013 General Election.
He also pointed to the fact that majority of the Luhya voted for Raila in 2007 and 2013 without success, but this time round, the tide in Luhyaland may go against him.
He argued that given that Raila secured 66 per cent of the Luhya vote in 2007, and a lesser portion of 59 per cent in 2013, a simple extrapolation suggests his factor among the Luhya electorate has been on a steady decline, and the tipping point may be in 2017.
"Whereas I must respect the confidentiality of the detailed discussions I had with the Luhya MPs, I'm entitled to summarise what I told them for public consumption in order to provoke a wider debate on the Luhya political destiny in 2017," said Anangwe.
But the former Butere MP insists that stakeholders in the region should not tire to empower interested parties in the re-awakening of the Luhya nation, and to work alongside other Kenyans to consolidate the democratisation process and good governance.
President Kenyatta and his deputy William Ruto have since the 2013 elections embarked on a charm offensive to win over Western before 2017.
Despite the predictions from the scholar, ODM Director of Elections, Suna East MP Junet Mohamed, argues Raila will still carry the day in Western, since the party is the most dominant in the region. ODM Secretary-General, Budalangi MP Ababu Namwamba and Deputy Party leader, Kakamega Governor Wycliffe Oparanya, both hail from the region.
Mr Savula says the region can only rally behind an outsider if it fails to garner enough numbers to win the presidency.
"If we feel we have the numbers, and with some support from others we can win the presidency, then we will go for the top seat. However, if we feel we are short of numbers, we will decide which coalition to support depending on where our interests are well catered for," he said.
Bungoma County Women MP Reginalda Wanyonyi said: "What is important is for the region to be focused and avoid wasting its votes if it has to be part of the next government."
Ironically, a few months before Water and Irrigation Cabinet Secretary Eugene Wamalwa took office, he predicted that the 2017 race will remain a two-horse race like it was in 2013.
"The way I observe politics as CORD leader Raila said in the 2013 General Election, there are only two horses running for the presidency in 2017 and the rest are donkeys," noted Mr Wamalwa during the burial of the son of former minister, Dr Mukhisa Kituyi.
Wamalwa's New Ford-Kenya (NFK) party leader, Bungoma Governor Ken Lusaka, has declared the region would support President Kenyatta's re-election.
And if what is being predicted by Anangwe comes to pass, then Western's two leading presidential aspirants, ANC's Mudavadi and Ford-Kenya's Wetang'ula should be concerned as they push on with their ambitions.
Mudavadi has dismissed Jubilee Alliance Party and CORD and asked them to stop dreaming of a two-horse race in the 2017 elections.
"It's a tired narrative that has no basis in the current political dynamics and anyone hoping it will would should wait and see the kind of campaign Mudavadi and ANC will mount," said ANC Secretary General Godfrey Osotsi.
Wetang'ula, also CORD co-principal, says formation of multiple political parties in Western was a scheme to divide the region.
"Have you seen any political parties being formed in Central or Rift Valley? While they plan to merge their political parties to strengthen them, Western is forming more minor parties to divide voters," noted Wetang'ula.