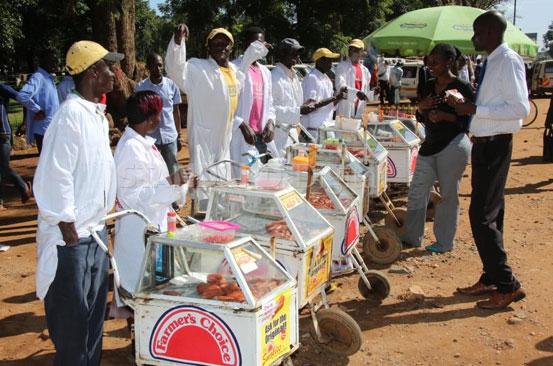 These traders — seven of them — cut a distinct figure at the edge of Muliro Garden of Kakamega County as they hawk smokies to travellers. Each of them cannot speak or hear, but to they chose to come together rather than compete as rival hawkers to capitalise on strength in numbers.
The traders — Edwin Ambani, Israel Elenja, Cornelius Otieno, Dennis Shisia, Wycliffe Ondari, Francis Kwalanda and Clement Carvailho — use sign language to communicate with customers, many of them matatu operators in the busy town.
Sometimes interpreter Joseph Beyo, based at Kakunga Special School in Kakamega, comes to their aid.
Group leader Otieno, 27, says working as a team is more beneficial than working as individuals and that is why they embraced team spirit to grow their business.
Otieno says hawking smokies earns him much more money than his previous business in carpentry.
How did they start hawking smokies? James Mburu, the Farmers Choice sales manager, says: "One of them consistently approached me whenever I came to Kakamega, asking for a job. I wondered how he could sell goods, given the nature of the job that ordinarily demands speech. However, due to his persistence, I offered him a trolley for free, to start him off".
"He proved to be trustworthy and amazingly his sale records were higher than those of regular sellers. I recruited his colleagues and offered them free trolleys and aprons." Since then, they picked well and the sales have been improving gradually.
Lilian Muthoni, a Kakamega stockist for Framers Choice, also gives the seven traders smokies on credit, which they sell and repay what they been loaned at the end of the day.
Since they do not belong to any group associated with people who cannot hear, they send Ambani to market their services because of his enthusiasm to communicate despite his disability.
They admit that at the start, they were shy and had trouble communicating with some customers. That is no longer a problem.
"Our biggest problem today is had weather, particularly if it rains or if the sun is too hot. We would love to sell from a roofed stand," says Ambani.
Of the seven, Ambani, Elenja, Otieno and Shisia are married, while Ondari, Kwalanda and Carvailho are not.
But they are not handicapped when it comes to dreaming big. In the future, they hope to open up a stockiest shop.