Job cuts looming as MPs want Butali deregistered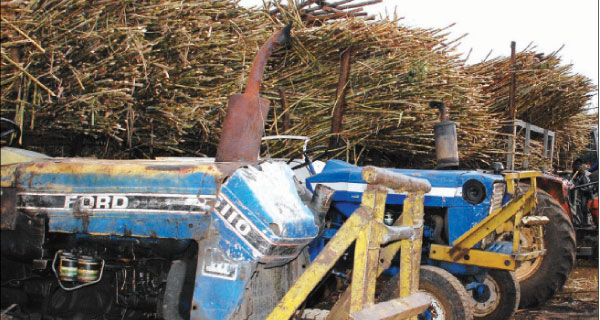 Tractors loaded with harvested sugarcane. The Parliamentary Committee on agriculture wants Butali factory closed. [PHOTO: FILE/STANDARD]
BY MANGOA MOSOTA
Kakamega County: More than 1,000 workers of Butali Sugar Mills risk losing their jobs if the factory is deregistered.
In addition, the factory's investment of over Sh4 billion would go to waste.
Kenya Union of Sugarcane Plantation and Allied Workers Union (KUSPAW) Secretary General Francis Wangara said it would not be wise for the miller to cease operations.
"So many people are dependent on the miller and the investment is heavy," Mr Wangara said, adding that the company is worth over Sh4 billion.
He said politics should not be introduced into the issue, adding that an amicable solution should be sought instead.
"Let the production from planted cane be increased so that factories have sufficient cane and consequently stop fighting for it," he said.
The Parliamentary Committee on Agriculture, Livestock and Co-operatives has threatened to push for deregistration of the sugar miller on allegations of cane poaching.
The 29-member committee has questioned the manner in which the company was licensed and demanded proof that it was carried out procedurally.
The committee, headed by Mandera North MP Adan Mohammed Noor, has undertaken to recommend deregistration of the miller unless it is convinced that proper licensing was followed.
Meanwhile, Wangara has urged the Government to carry out an audit report of the State-run factory's staff before effecting any retrenchment.
The unionist said only an audit would ascertain if there was bloated staff in the Government-controlled miller. He said there was need for a performance contracting audit of the 4,000 workers.
Manual data base
"The millers are run manually and as a result, there are hundreds of contract and casual employees," he said.
Wangara said staff salaries make up only 20 per cent of the cost of running the factories.
He said if the Government feels some employees should be retrenchment, there is need for a forensic audit first.
Wangara's comments come after Agriculture Cabinet Secretary Felix Koskei asked Nzoia Sugar Factory to lay off 600 workers for it to remain effective.
Last week, Mr Koskei said the factory risks spending all its funds on salaries. He presented cheques worth Sh700 million and Sh192 million to Nzoia and Chemelil sugar companies, respectively.
The sugar sub-sector faces a number of challenges key among them being capacity under-utilisation.
In addition, the five millers that the Government has a stake in have huge debts that are hindering privatisation.