TACKLING DRUGS MENACE: Anti-doping campaign heads for Nyahururu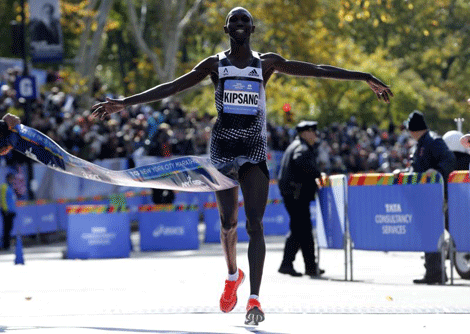 Wilson Kipsang of Kenya crosses finish line to win men's professional division of the 2014 New York City Marathon in Central Park in Manhattan
wilson kipsang
Former Marathon World record holder and reigning Boston Marathon champion Wilson Kipsang will on Monday lead Professional Athletics Association of Kenya (PAAK) to the 'Okoa Riadha' (save athletics) conference at Bettan Hotel in Nyahururu.
On Tuesday the elite athletics organisation will proceed to Embu County for a similar conference. This will be PAAK's second seminar after a low key inaugural conference in Machakos. PAAK is, however, confident that they will enlighten all its 15,000 registered members on the dangers of drug use and financial management among other issues seen to be threatening local athletes.
The organisation's Nyahururu region chairman Charles Kimathi, who also former 10000m World Champion is optimistic that a big number of its members will attend.
PAAK President Kipsang told FeverPitch: "It is important to mentor these young athletes. Every year, old athletes retire and the youngsters are expected to take over."
We aim at giving upcoming athletes the best guidance, that's why PAAK is coming in to guide them on the need to keep off banned substances and win clean," he added.
Former Boston Marathon winner and Cherengany Member of Parliament Wesley Korir promised to table a Bill in the National Assembly to criminalise doping after Kenya's top marathoner Rita Jeptoo tested positive for the performance enhancing drug EPO last year.
The organisation's national organising secretary Julius Ndegwa believes PAAK has a big role to play in curbing the doping menace.
"The management at Athletics Kenya has never taken to the track; they don't know the pain we go through to win medals for this nation," lamented Ndegwa.
"It is our mandate as PAAK to make sure our members (athletes) are educated on the dangers of the drug use in sports, they are one affected, not those in the office. Soon the doping will be a criminalised; it will be sad to see a runner going to prison because of failing a dope test, " said Ndegwa who added, "all these can be avoided through education and seminars which we have initiated."
"As athletes, we must win clean and be on the lookout for those managers and agents who are only interested in money at the expense of our health," Ndegwa added.
Did festivities obscure new security laws??
The controversial security laws are at a stage where those against them can bank on no more hope than seeking an amendment on the same, unless they have other measures not yet known.