Commonwealth Games: Kenya's Jonathan Ndiku wins Gold Medal in 3000m steeplechase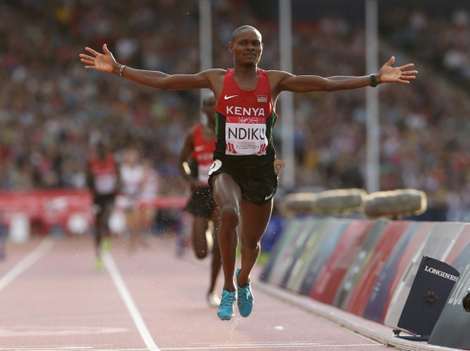 Jonathan Ndiku of Kenya holds his hands out as he celebrates winning the gold medal for the men's 3,000-metre steeplechase final.
It was a rare defeat for the event's highest profile star, Ezekiel Kemboi, which emerged as the talking point on another huge night for Kenya at Hampden Park Stadium on Friday night.
Ezekiel Kemboi's wins at the IAAF World Athletics Championships, Olympic Games and brilliant shows at the Commonwealth Games has seen him enter the pantheon of 3,000m steeplechase superstars.
With two Olympic titles and three world crowns to his name –and three worlds silvers and three medals at the 'Club' as bonus –makes Kemboi the world's steeplechaser of all time.
But that could count for nothing when former world junior 3,000m steeplechase champion Jonathan Ndiku and Jairus Kipchoge Birech, fourth at the All Africa Games, snatched gold and silver respectively, leaving Kemboi to settle for bronze.
Ndiku, who went below the radar after winning the 2008 World Junior Championships title in Poland, had a fortune up for him. It was a moment of sheer magic for Ndiku, who made made a daring charge with 200 metres to sprint to victory in a games record of 8:10.44.
Birech, the 2011 Africa Junior silver medalist, bagged silver in 8:12.68 while Kemboi settled for bronze in 8:19.73.
Ndiku, who trains together with newly crowned Commonwealth Games 5,000m champion Caleb Ndiku Mwangangi in Machakos, said: "The competition gave me sleepless nights, knowing too well that I had to take on Olympic champion Kemboi and Birech, who has performed quite well this season. In a sheer agony of soul searching, I approached Kemboi for advise who then told me to gather courage and build self-confidence. And that's what I banked on," said Muia, the 2009 Africa Junior Champion in Bambous city in Mauritius.
Birech, who is a cousin of 2007 world 800m champion Alfred Yego Kirwa, said it was unfortunate that he hit the barrier at 1000m mark, which injured and slowed him down.
"I really wanted to win the race. But I am happy a Kenyan won the title. I stumbled on the barrier on my right knee and felt the pains. By the second last lap, Ndiku had noticed and even pitied me," said Birech, who comes from Chesunet Village near Moi University's main campus.
"We will now renew the battle at the Africa Championships in Morocco. It will be a tough one since each one of us would love to compete at the Inter-Continental Champions. The end justifies the means there," Kemboi said.
His celebratory dance; the mohawk victory hairstyle and running antics did not play out; which fell short of his fans' expectations.
Kemboi, who comes from Mathira Village in Kapsowar, said: "I was struggling with a nagging tendon injury and that's why I stayed behind. I am now an old man after being at the top of the steeplechase race for 14 years and particularly taking part in three Commonwealth Games. A bronze is good for me as I prepare for the 2015 World Championships (in Beijing)."
Kemboi has competed in one Diamond League race (Doha) while Birech was competed in five, winning four.