Man seeks CBK help over fictitious bank dealings, CRB listing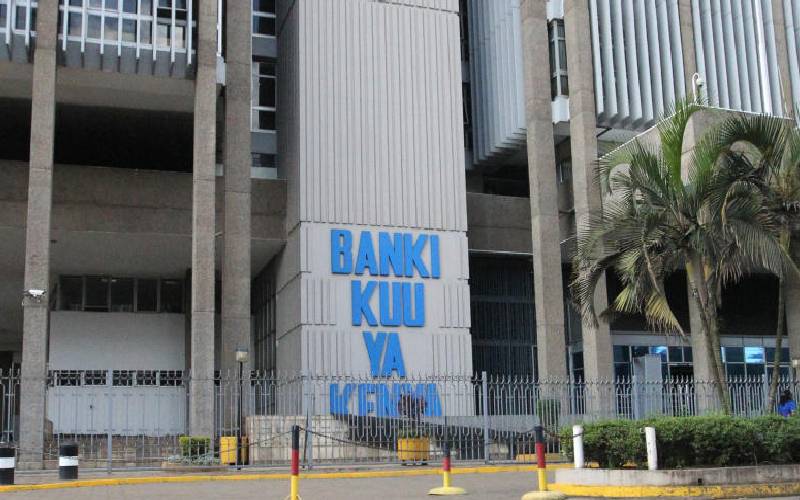 A man has written to the Central Bank of Kenya (CBK) to over fictitious transactions in his personal bank account and unlawful Credit Reference Bureau (CRB) listing for two years.
As far back as 2018, Daniel Kimuyu Mwero's bank account had started handling some suspicious transactions and he raised an alarm.
From unsolicited loans to overdrawn accounts, the red flags started showing and it was just a matter of time before the roof caved and with casualties.
He narrated in his letter events leading to summon by the DCI over questionable deposits into his account despite reporting unusual activities in his bank account.
Back in 2019, three payments were made to his account amounting to close to Sh14 million which he wrote to the bank stating he was not aware of. The three transactions were Sh3.2 million on July 30, 2019; Sh7.3 million on August 8, 2019; and Sh3.6 million on August 16, 2019.
"I have verified with my supplier and the payments below received in the bank statement do not reflect on the supplier's account. I wish to get a confirmation of the origin of the transaction as the supplier confirms not remitting the said transactions," Mwero wrote.
In another transaction, he revealed that on June 28, 2020, together with his wife, reported fictitious transactions amounting to Sh14.1 million in their accounts and sought clarifications on sources of the funds. The bank confirmed the source to be an international consulting firm with whom he says he has running contracts. The bank replied that all the three payments were from an international consulting firm.
"If you were not expecting the payments from them, please contact them and arrange how to refund them," wrote the bank adding, "When you receive a credit that you cannot recognise, you should immediately contact the bank to verify the source of the funds. Further, when you receive your monthly statement, you should query any strange transactions within the next month for investigation."
Mwero maintains that his cries to have the various situations investigated by his bank were never followed through conclusively prompting him to write to CBK.
"On or about March 2, 2020, I noted fictitious transactions on our account including loans taken without our approval," read the letter headlined "Allegation of Theft of Sh103,388,459", addressed to CBK Banking Supervision.
In his letter, Mwero outlines various instances used to effect questionable transactions using his account. Some of the transactions, he claimed, jeopardised his credit viability with various financial institutions.
In one such transaction, he was awarded Sh286, 000 which he has been inconsistently paying and now has a balance of Sh25,028.
CRB listing
In another case, he notes that he failed to pay a mobile overdraft facility of Sh50,000 which has now accumulated to about Sh100,000 while in another case he got a Fuliza loan from the bank which still has a balance of Sh787 and the other where his Euro account was overdrawn by Euro 21.44 plus another loan of Sh358, yet to be paid.
"These fictitious loans resulted in me being blacklisted by the CRB and as such, I was unable to access any credit facility both mobile and bank facility over loans I knew nothing about."
Mwero said he wrote to his bank seeking an explanation for the listed transactions in a series of correspondence running through to April 29 this year in vain.
"On April 29, 2020, we raised an issue of erroneous notifications of five loan repayment transactions for non-existing loans/loans. The bank responded stating they were erroneous," he stated.
A string of emails reveals the conversations between Mwero and the bank through the branch manager.
He informed the bank, on April 9, 2020, that due to the listing by CRB, he could not access credit facilities from another bank.
The same day, the bank responded, promising it was working to have the issue resolved,
"Our sincere apologies for the inconvenience this has caused. We sent the request for your accounts to be cleared to the different credit reference bureaus but it appears the update has not been done yet."
The bank's branch manager wrote back with the affected transaction batch numbers promising that the situation will be salvaged.
In response, an almost exasperated Mwero noted, "Just to let you know that because of the delay in solving this, I have lost credibility with a number of mobile lenders… This is not only inconveniencing my business but hurting my image as well."
A day before, Mwero had received notifications of five transactions for non-existent loans and wrote a letter informing the bank so, "This is now getting out of hand and I'd like it sorted out soonest and updated accordingly."
The bank acknowledged that the notifications were erroneous and it had asked to have them rectified, adding that since the loan was taken in November and paid in December, the system should not be generating messages.
Regarding the loan limit, the bank stated, "Unfortunately we do not have the mandate to instruct KCB to reinstate your limit, even though the inconvenience is noted and regretted."
But Mwero retorted that because the mistake is with the bank, the onus should have been upon it to open discussion with KCB over the credit limit to which the bank replied that it had no mandate to do so.
Ten weeks after the first complaint, another mail from Mwero jolted the silence.
"As late as today, the fictitious loan figures were still reflecting on the mobile loan application. While we regret delaying with the mobile loan whose balance was cleared today as per notification messages to my phone, effective immediately, I wish to let you know that we'd like to close all our seven accounts held in your branch due to mishandling of this error which now doesn't give us the trust we had in this bank when we first opened our accounts," signed 'Frustrated customer' Mwero on June 8, 2020.