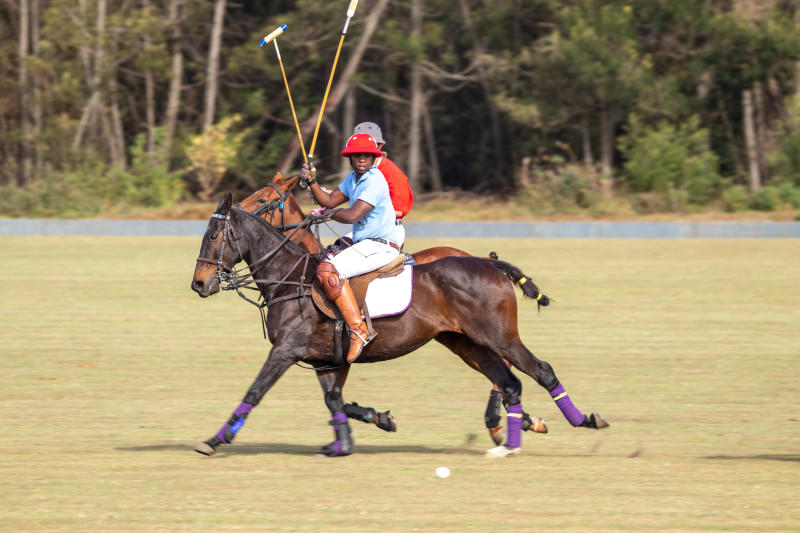 Handicap 2.5 Raphael Nzomo and handicap -2 Bobby Kamani were the outstanding players as their teams lifted Macallan and Bentley trophies at Nairobi Polo Club, over the weekend.
Nzomo scored five goals for Macallan while Kamani scored a goal for Highland Park and provided numerous assists for his team as their sides bagged victories in the third week of Kenya Polo Association Championships.
The handicap 3.0 Macallan team of Nzomo (2.5), Phylippa Gulden(0), Hiromi Nzomo(0) and Ed Burbidge (0) scored a 6-2.5 victory against Bentley side of Vishal Somai(2), Izzy Stichbury (0.5), Rowena Stichbury (0) and Fredd Kambo(0) in the one-sided match.
Nzomo scored a double in the first chukka before Gulden added the third goal in the second chukka.
Nzomo was on the mark again in the third chukka before landing a double in the fourth chukka to wrap the day in style.
After starting the match with the advantage of half fraction of a goal from their low handicap, Rowena and Kambo each scored in the first and final chukkas to save the day for their side.
On their side, Kamani, who played alongside Kevin Kaniu (0), Simon Muchene (-0.5) and Josephine Gauld (-2) for the handicap -4.5 Highland Park team, defeated Famous Grouse 6-4.5 to lift the Bentley Cup.
The handicap -5 Famous Grouse side had Izz Stichbury (0.5) Miranda Romijn (-1.5), Kelvin Jumba (-2) and Archie Stichbury (-2).