Soaring in Seoul
TRAVEL & DESTINATION
By JANE KENDA | September 20th 2012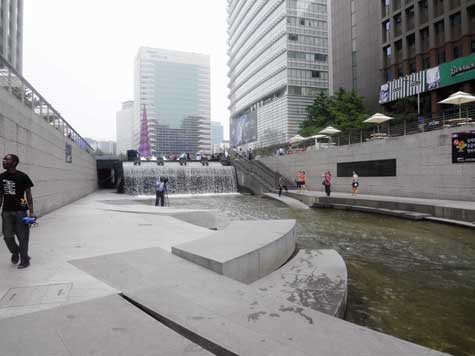 The Cheonggyecheon Stream in the middle of Seaul cools the temperature of the city and surrounding areas by over three degrees celcius.[Photo:Standard]
Jocular jokes are often told comparing the two Koreas, the north and the south. But on a recent trip to Seoul, JANE KENDA realised South Korea, is as developed as the West.
Nairobi was particularly chilly that Friday morning and I couldn't wait to enjoy the summer weather in South Korea. Although I didn't manage to research much about my destination, I sure knew it would be summer.
I was in a group of seven journalists and a Kenya Tourist Board official who had been invited by the Korean Tourism Organisation (KTO) to tour Seoul courtesy of Korean Air.
The 13-hour flight, although quite exhausting, did not dampen my spirits. Between movies and sleep, I tried to picture Seoul. I wasn't sure whether South Korea was ranked as a developed country, but I decided that even if it were, it wouldn't be as developed as some of the developed countries I had visited in the West. I placed its level of development between Kenya's and the developed world.
It was, therefore, a rude shock when we landed at Incheon International Airport and I realised it was just like any other developed country. In fact, the infrastructure is modern.
As the tourist van glided through the smooth road from the airport to Seoul, our superhighway — Thika Road — paled in comparison. I truly realised Kenya had a long way to go. Apart from the roads, one can also use the subway from the airport to Seoul and around the city.
We left Nairobi at round 11am, and travelling eastwards we gained six hours and arrived at 5:30am the following day.
Soul of Seoul
As we entered Seoul, all of us were amazed at the expanse of the city. What was even more surprising was that the hundreds of buildings were skyscrapers built close to one another. I immediately concluded that the city must accommodate a lot of people. My guess was confirmed by the tour guide, who aptly pointed out that Seoul had a population of over 13 million.
After a few hours of rest and refreshments at Mercure Hotel, it was time to sample Seoul. Most of us had carried our 'summer' wear and were ready to flaunt a little skin. When we stepped into the sunny city, we couldn't help but feel overdressed, as the dress code among many women and girls was either hot pants or mini-dresses and stylish heels.
Our first stop was the Blue House (the presidential palace) located on a scenic hill overlooking the city. All the roads surrounding the palace were lined with young and casually dressed security officers. Except for their alertness and backed phone pieces strapped around their ears and necks, one could hardly tell they were police officers.
From the gate to the few visible buildings, one could easily spot the unique traditional architectural designs with colourful roofs and gutters.
We did not, however, manage to get in and decided to join many tourists taking pictures at a fountain across the palace gate.
Our next stop was the Korean Folk Museum where we got a glimpse of Korean culture, dating back thousands of years. Over 99,971 artefacts, including farming tools and items used by ancient Korean people were displayed in the three-storey building. After more than an hour of guided tour, we were familiar with the gradual transition of the Koreans from a primitive culture and tools to their current modern and industrialised state.
Later in the afternoon, we visited Changdeokgung Palace, a traditional palace where Korean Kings dating back to the 14th Century lived. Although the structures had changed over time, the buildings and the pavilions on the 110-acre now bushy compound have retained their original designs. The traditional palace is a Unesco World Heritage site.
Our dinner was scheduled in one of the restaurants on the 237 metres Seoul Tower. The reflection of the sunset's rays across the city was breathtaking. It got more magnificent and romantic as the night set in. I couldn't help wondering how many helpless romantics had wished for a proposal atop this glorious structure.
On Sunday morning, we went to a Buddhist temple, not for a service but to see how Buddhists worship. There were many temples around the compound where worshippers either knelt or sat on cushions and chanted. Other worshippers chose to bow and present gifts to the small Buddha statue near the gate or headed up to the main Buddha statue at the upper edge of the compound. Faithful were engrossed in their worship activities and did not seem perturbed that we were peeking in and taking pictures. Buddhism is the main religion in South Korea.
Popular spots
A few of the Koreans we met in Nairobi before we left had told us not to leave Seoul without visiting Itaewon, especially at night. Our guided tour schedule could only allow us to visit the place during the day, but we promised ourselves to find our way back later that evening to sample the nightlife.
Because of its multi-cultural nature, Itaewon is a favourite of tourists. We were told prices would be fairer here compared to the city centre, but it wasn't that different. All the same, most of us took the opportunity to buy souvenirs for our loved ones.
Later that evening, after dinner and freshening up, we called two cabs and headed back to Itaewon. We were anxious to see what had been described to us as a vibrant nightlife. It felt like Kenyatta Avenue on a warm Friday night, only it wasn't as noisy. After walking in and out of a few clubs and strolling up and down dimly lit alleys, we decided people here liked things calm. We settled for club where patrons quietly enjoyed their drinks and snacks, nothing like the din in Nairobi clubs where people shout themselves hoarse in the name of conversing with tablemates.
Our first stop on Monday morning was Hu Care, a firm that operates beauty treatment clinics in Seoul. Because of the infiltration of celebrity culture, Koreans, particularly women, are very mindful of their appearance, with some seeking plastic and dental surgeries to improve their looks.
These clinics are not only popular among Koreans, but also foreigners from Asia and other continents who visit for wide-range of treatments. To tap their economic potential, KTO markets them under medical tourism.
If you know something about Korea, then you probably have heard about Kimchi — Korea's traditional food, which was named the fifth healthiest food in the world by the US Men's Health magazine. The vegetable is made from fermented cabbage mixed with garlic, salt, vinegar, chilli peppers and other spices and is served in practically every meal. We even got a chance to cook this unique meal at Kimchi World, an exhibition centre where visitors can taste and learn to cook this traditional dish.
Talking of healthy eating, Koreans truly love eating healthy. For some of us who are used to deep fried shiny chicken served with puffed oily chips, eating in Seoul was a totally different experience. Most of their meals are boiled and come with myriad vegetable side dishes and soups, especially when it is a special occasion.
We were treated to one of those special dinners and were amazed at how many plates and bowls of food each one of us was served. We each had about three plates of main dishes and about ten bowls of side dishes!
As we waited for our flight at the Incheon International Airport, we toured various spots at the airport. From the cosy and classy VIP lounges to the massage parlours, hotel suits, designer shopping outlets and cultural exhibition halls, one is spoilt of choice as they wait for their flight.
Riveting dhow rides in Wasini
A trip to South Coast gives a visitor an opportunity to experience the broad expanse of pure white beach, and as ALLAN OLINGO recently found out, the inviting ocean and the exotic world of holidaying in a rented villa is just the best way to relax