Uncle Ted: Why does my wife stare at me angrily in bed?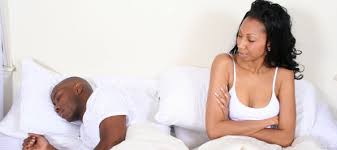 Dear Uncle Ted,
My wife and I have the usual problems that couples face. She annoys me, I annoy her. That's kawaida in marriage. Of course I have a side dish and my wife suspects but she has no concrete proof. Now the issue is, last week, I woke up at 2am and found her sitting in bed staring at me with a murderous look on her face. Do you think she has discovered my tricks? Should I confess before she does something silly?
Martin
Dear Martin,
Young man, it is a little odd for a man who is not newly married to wake up at 2am unless they are night runners or military personnel on dangerous missions and a lizard has just scampered past their tent. Do you have stress at work? Do you relate well with bosses, colleagues? How is your financial situation? When is the last time you changed your mattress and pillow? Bedbugs? I say this because it is the nature of men to sleep foo-foo-foo even when a baby is screeaming. Remember watchies, who are paid to stay awake, start snoring at 9pm. You might just want to see a doctor and if the pain persists, ask your MP or MCA to recommend a good witchdoctor.
Regarding that small matter, every woman has time and again considered strangling her man — because he snores, is stingy, cheats, lazy, hopeless in bed, snores, farts, or she just regrets marrying the lousy bastard instead of that cute guy in college. So stop imagining you are special! Psst: Wacha kuhanya.