Easter accident almost wiped out my entire family
Turning Point
By Kennedy Gachuhi | May 5th 2022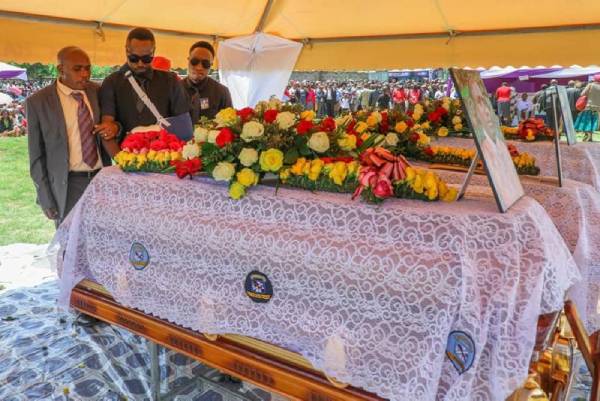 Joseph Mungai, a staunch Christian, travelled from Nairobi where he works to his parents' home in Mau Summit, Molo where he spent the Easter holiday.
He tagged his wife and their two children along. In Molo, he reunited with his father Peter Ndung'u, mother Lydia Wanjugu and his only brother Kelvin Ndegwa.
After a week of merrymaking with the family, it was time to return back to the city where they live. Mungai's parents decided to drive them back to Nairobi.
The whole family boarded the car and the journey began.
It was at Kimende along the Naivasha-Nakuru highway where the unfortunate happened. According to witnesses, a loaded canter lorry heading towards Nakuru swerved off its lane and crashed into their car.
Ndung'u, who was driving, died on the spot as the rest of the family was rushed to the nearby AIC Kijabe Hospital. His wife and their lastborn son Ndegwa, 24, were pronounced dead on arrival. Ndegwa was a student at Kenyatta University.
Mungai, his wife and their two children survived with serious fractures.
Although he was discharged, his wife and the two children are still admitted. One of the children is in the Intensive Care Unit (ICU).
A dark cloud of sadness hung over the funeral ceremony at Molo Academy where the service took place. Ndung'u was an accountant at the school for 29 years.
Mungai says the pain of losing his parents and his only brother is still fresh and nothing seems to soothe it away. He feels lifeless inside and lives each day at a time. He also has a family to take care of in hospital.
George Muchiri, the family spokesman, said that Ndung'u was their lastborn brother and the news about the death of his family was saddening and shocking as it nearly wiped out an entire family.
"This was the most heartbreaking moment for us as a family. One of the granddaughters is still in the ICU but the mother and the other one are responding well to treatment," said Muchiri.
President Uhuru Kenyatta, through Governor Lee Kinyanjui, sent a donation of Sh2 million to offset the piling medical bill while Kinyanjui gave Sh200,000.
Peter Njuguna, their neighbour, described the deceased couple as peaceful adding that they had not been involved in any differences with their neighbours for the over three decades they had stayed there.
Nakuru Governor Lee Kinyanjui condoled with the family describing the loss as heartbreaking and unfortunate.
"The exact pain of losing three members of a family in an accident cannot be told by a person other than the affected relatives. We know it is extremely painful. We share in your grief and pray that you find solace," said Kinyanjui.
The governor appealed to motorists using the highway to exercise caution to spare families such agony that at times robs them of their breadwinners and orphan children at an early age.
"It is saddening that a family has lost innocent souls because of a mistake that may have been avoided by the other driver," said Kinyanjui.
Area MP Kuria Kimani described the deaths as a blow to the Molo community where the family had served and left a great mark among the residents.
"The Molo Academy fraternity has lost a man who was always there to serve the students. His wife had a great impact on society as a mother. Their late son is an alumnus of this school. The loss is too much," said Kuria.
Ndung'u, 55, was an accountant at Molo Academy Primary School where he had worked for the last 29 years. His wife Wanjugu, 53 retired recently from the Pyrethrum Board of Kenya.