They told me my teenage son had died in Mogadishu as a suicide bomber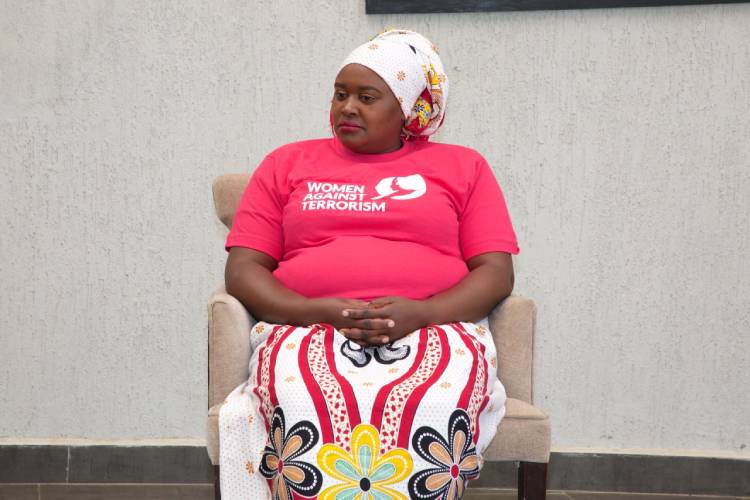 Forced to flee from home after her son joined terror outtfit, HIDAYA WANJIRU sank into depression on learning of his death. She tells JAEL MUSUMBA about her new life as a motivational speaker.
Tell us a bit about your son.
I gave birth to my first born son at the tender age of 19 years. That was in 1998 and I was living in Majengo slums. His father died in 2008, and as a single mother, I raised him with good morals. I did all I could to give him a good life; he never lacked nor struggled. My son was the kind of child that every parent dreams of. He was supportive, respectful and loyal. He loved listening to sermons and never missed Madrasa, he had a promising vision. Until he turned 13 years old.
What happened then?
He changed drastically and before I could realise what had happened, he had taken off. I lost him in July 2011 when he was a candidate. On the material day, everything went as usual until around 8pm. We closed our food business, cleaned up and left to attend a sermon at the mosque. Just before we went to the sermon, he handed me savings he had made over the years from the business. At first, I was suspicious and questioned him, but since we were heading for prayers, I just took the money. I didn't know it was the last day I would set my eyes on him.
At what point did it occur to you that he had disappeared?
After waiting for him till late in the night, I tried to call him but his phone was off. Three days later on my way to work, just as I was stepping out of the house, I spotted his handwriting on the wall stating, "mum usijam nitacome" (don't be angry mum, I will come).
How did you react when you read this?
I was in a total shock and also confused. My first instinct was to report the matter to the authorities. I ran back to the house to check his photo album for a picture that would help with identification, but I found nothing, he had disposed off all his photos. That's when I concluded that my son had not only disappeared, but he had also joined a terror group.
What was your next step?
I confided the matter to one of my lady friends who advised me to approach the media and offered to connect me with a journalist. The journalist agreed to make a public missing person alert, but since I did not have my son's photo, we settled on doing a radio broadcast instead. The plea went viral but unfortunately, my words turned against me.
What do you mean?
In the radio announcement, I had mentioned that I was certain my son had joined the Al-Shabaab terror group, but I wanted him to know that I needed him back as I loved and missed him. This statement got me into trouble, and soon, anti-terror police and the terror group itself were after me. I got threats from all corners. The community also speculated that I had sold my son to the terror group for Sh1 million and they also turned against me. I never felt safe anymore.
How did you cope with this turn of events?
Things went from bad to worse, and I had to cut links with everyone including my family. I took my other two children to my mother, left Majengo and moved to Dandora. I sought refuge with a man whom I had met few months before, but he took advantage of my plight and abused me physically and mentally.
You later left him...
Yes, after two years of perseverance, I walked out and decided to go back to Majengo. I was ready for anything, be it jail or death. Unfortunately, I soon learnt that I was pregnant with the man's child, but I had to survive.
Did you ever hear from your lost son again?
Soon after I left the abusive relationship, I bought a phone and renewed my line. After about a week, I received a call from a new number. On picking, the caller introduced himself as my son. He called to ask me for forgiveness. After this, we kept in touch until 2014 when I received the tragic news that he had died as a suicide bomber.
Who broke the news to you?
Two young men came to my house on 26th December. They left a phone there instructing me to wait for a call. Hours later, the call came in from a person who said he was my son's friend. He told me that my son had died in Mogadishu as a suicide bomber. At that time, my son was only 17 years old. I was tongue tied, I didn't know what to do. I couldn't mourn him for fear of being arrested, and I couldn't bury him either as there was nothing left of him. My life took a drastic turn. I sank into depression and started using drugs.
How did you overcome your tragedy?
It took me years to accept my fate. Some good samaritans took me to a trauma healing centre where I got treatment. Six years later, I got healed and became a motivational speaker. I educate parents and youth against radicalisation. I am the secretary at Dark Still Dawn Centre and have collaborated with various organisations including Healing and Rebuilding our Community (HROC), the National Counter Terrorism Centre (NCTC), Women Against Terrorism (WAT) and others.