My step mother hated me and would always frame up accusations to ensure dad was always against me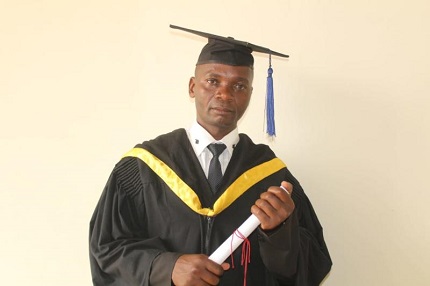 Tell us about yourself.
I am a 46-year-old Kenyan, husband, father to three and a farmer from Kimang'et village in Kakamega County. I am the first born in a polygamous family with 10 siblings. I schooled in five different primary schools before proceeding to Malava Boys High School where I completed my form four in 1993. My parents separated when I was in class one and I had to endure living with a step-mother after my real mother got a job as a matron in Kibos primary school for the blind.
How was it being raised by a step-mother?
Feverish is an understatement. My step mother hated me and would always frame up accusations to ensure dad was always against me. One time, one of her children urinated in a cup and she forced me to drink the urine because she thought I was behind it. On many occasions, she denied me food and I survived on the generosity of a neighbour who offered me meals.
Did you ever share your troubles with your father?
Yes. I once opened up to my father but he could hear none of it. At that time, he lived in Nairobi and would come home twice or thrice a year. He would be fed with negativity about me and he believed that I was a naughty boy. Instead of listening to me, he hired AP officers to beat me up. I felt like my world was crumbling. I was helpless and no one could either help me or at least listen to me. I resorted to taking drugs, specifically bhang.
What were some of the challenges you experienced in high school?
My admission to secondary school was very miserable. I did not have uniform, no box, no beddings until my mother bought them for me two weeks later. My father only paid for my admission fee to secure the opportunity. Life in high school was a privilege for me because I had food, unlike at home where getting food was not guaranteed.
Tell us about your journey through campus...
After completing form four in 1993, I went to Nairobi to look for a job. All I wanted was to save money for my studies. I saved whatever little I got from working as garbage collector and trailer turnboy. I later went back home and started small-scale farming. In 2016, I enrolled for a diploma course in county governance at the Jomo Kenyatta University of Agriculture and Technology (JKUAT) before proceeding for a bachelor's degree in public administration and leadership at the same institution. I graduated in December 2020. My brother funded my studies and that motivated me to work even harder.
What were some of the challenges you faced in campus?
I had to endure living in a grass-thatched house because I channeled my money into paying my school fees. Locals would mock me for living in such a house but I had to endure. I would use all the available transport means to catch up with lectures. At times, I stopped police vehicles, cane tractors and ambulances to ask for lifts.
Despite all these challenges, what motivated you to keep going?
I read a newspaper story about a guy from Kibera who sat his KCSE working as a guard. I kept that piece of paper and would read the story whenever I was low. My own brother also rose through the ranks from guarding to management after acquiring his degree and then secured a job with a county government. One of my mother's seniors at her workplace also used to spite her, saying that none of her children would sit on a rocking chair like his. This stuck in my memory and my wish is to challenge this statememt for as long as I am alive.
What are you doing currently?
I am at home still doing small-scale farming. My sister's dowry played a big role in stabilising us financially. We were given six cows, two bullocks and four heifers and so we would partner with friends to make a ploughing team which led to increased yields from farming.
However, when my degree papers come out, I intend to go out and look for a job that will finance my master's degree. I am determined to go further in public policy and administration studies.
What advice would you give to youngsters going through hardships similar to yours?
They should keep pushing despite what they are going through today. One thing is for sure, that if you work hard then you will have an opportunity to change your story. Tomorrow is full of uncertainty, they should keep the faith and work towards a brighter future.