We were so dirt poor, I wore my sister's pink hand-me-down underwear to school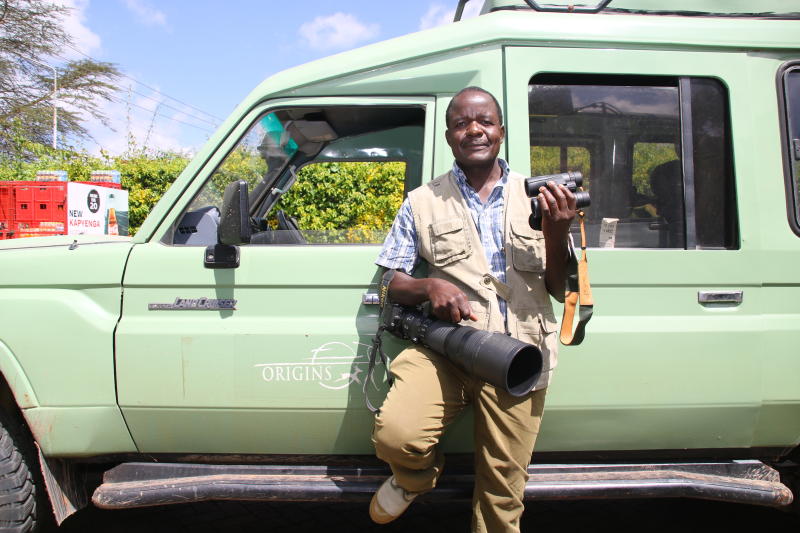 Peter Liech grew up in such abject poverty that he had to repeat class eight four times for lack of fees. He tells The Nairobian how one man's faith in him propelled him to the global stage
In 1986, Peter Liech joined secondary school at 19 years of age. So poor was the family that upon joining secondary school, the entire village contributed in cash and kind. But what Liech has never forgotten to date is that he was given his first pair of underwear, pink female panties, a hand-me-down by his elder sister.
"I had never owned any in my life, but at school all boys must come with underwear. So she gave me hers, and I proudly wore female panties. Unfortunately, someone in school also stole them from me in the first week," says Liech, roaring with laughter. None of his five sisters went past primary school.
At 53 years, Liech is at the apex of his career, as an ethnology and anthropology tour guide, one of the only 26 gold certified in Kenya. For a man whose family couldn't afford school fees at Oriwo Secondary School, Liech has crowned his achievement by co-authoring a book with celebrated wildlife and nature photographer Larry Broutman.
African Treasures spans 300 pages of diverse African culture and wildlife through stunning photography and text. The book, published early last year, has propelled Liech to global fame, with two-dozen guest speaking engagements at prestigious universities, wildlife conservation societies, zoos and museums lined up in his calendar.
"When the book came out, we had planned to do eight tours in the first four months, but Corona happened and everything has been put on hold. Funny thing is the most important people in nature and wildlife conservation in Europe and America were happy to invite me for lectures, while at home, even accessing the important people in the ministry (of Tourism) to give them copies of my book was hard," says Liech, a father of three.
Liech's history and friendship with award-winning photographer Broutman was cemented in early 2005 when the photographer asked Liech to guide him through Ethiopia and Northern Kenya on safari.
"We were a team of seven and along the Omo River, our voyage was hit by heavy winds and to survive, the captain had to throw everything that didn't breathe overboard as well as rip the sails.
"The wind pushed us violently in some part of Lake Turkana that has the highest concentration of crocodiles. We drifted slowly across the turbulent waters and no one spoke for two hours. We all knew that if one big wave came, we would all be eaten by crocodiles. Eventually the wind subdued and our coxswain used the propeller engine to get us to Kubi Fora."
He says the hours of uncertainty he spent with Broutman in the sea craft cemented their friendship and from then, he got involved in all the nature photography Broutman engaged in. In 2018, Broutman got an aggressive type of cancer and together with Liech, they spent the entire year picking photos and texts to finish their book, which was published a year later, just as Broutman passed on.
Liech's struggle with education is a story he once told safari clients he was guiding over camp fire, and one of them was so touched that she offered to help any disadvantaged child from his village.
"A client named Kathrene Dodge was so touched by my story, so she asked to help and we formed Nyashep Education Trust in 2003. By 2013 when ideological differences emerged at the Trust, we had taken 350 students to university. We had one sponsor who paid fees for 19 children at once, from form one to form four. We have produced lawyers, doctors, accountants and all type of professions," he says, pulling out a picture of a young boy, taken in 2009. In the picture, the boy is surrounded by four sisters, a brother and their father. They are standing next to a tree dotted with quail hunting traps.
"This boy had just passed KCSE and Nyashep Trust agreed to pay his fees. His father, a quail hunter, could not afford fees. As we speak now, the boy is a lawyer, practicing in the city. Such success stories melt my heart," says Liech, who attended Utalii College. As for his career as a tour guide, Liech says there are no institutions that train tour guides, so the quality of the profession is dwindling.
"Utalii only admits eight tour guide students every year, and the number is too small to effect any change." Currently Liech is taking Chinese classes as he maps out the future of his lifeblood.
Hide your knickers
Hanging your underwear on a public clothesline makes them public property