Joseph Mureithi left school a healthy, able-bodied student. When schools re-opened a month later, he was a cripple in a wheelchair.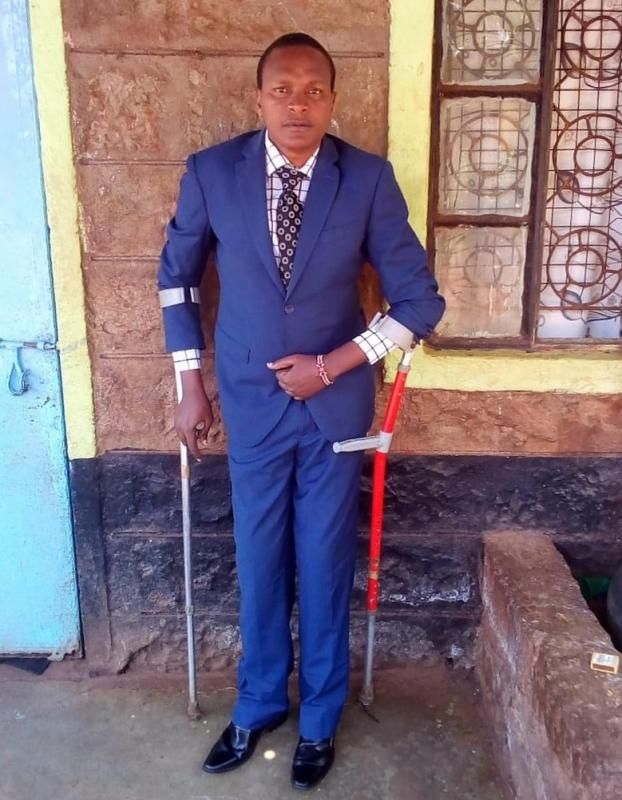 You closed school a healthy student only to go back in a wheelchair…What happened?
During the school holiday, a relative asked me to accompany him to Githurai to check on one of his businesses. Being a teenager I was elated. I was really looking forward to share the experience with my classmates when schools reopened because they hardly travelled. That afternoon as we were on the road, our car veered off the road and plunged into a ditch. My relative sustained minor injuries but I was the hardest hit because I had fractures and dislocation on both lower limbs.
What happened immediately after the accident?
We were rescued by good Samaritans and taken to Kenyatta National Hospital where I was admitted for nine months due to the extent of my injuries. The doctors were forced to postpone my operations frequently because I have hemophilia and therefore I could not undergo surgery until I was infused with blood clotting factor.
How did you feel going back to school in a wheelchair?
It was devastating. I used to be a day-scholar at Ndumberi Secondary School but because my condition needed extra attention, my parents decided to transfer me to Gateway High School in Ruiru. Things were not smooth for me because I depended on other students. Sometimes I could see that they felt I was burden, especially when I would request to be taken to the toilet. I felt ostracised, unwanted and most of the times I was alone.
Did you ever imagine that life would turn out this way?
No, I was at the peak of my independence as a teenager and dreamt of being an accountant. But everything happened so fast and it was not easy to accept that I would live with disability for the rest of my life.
How did you cope?
Thankfully, my family was well-off as my father was a prominent businessman in Kiambu. He had several cars and it was easy for him to get me a driver to aid my mobility. Unfortunately, tragedy struck me once more. That same year I had become crippled, my father died in a road accident. Soon afterwards, even before I could recover from this loss, my mother also passed away. The third stroke of tragedy was when my father's businesses collapsed because there was no one who could manage them after our parents' deaths.
I had never imagined that my parents would die so soon and it left a deep imprint in my heart. I hit rock bottom. However, I have always hated being dependent and begging money from people. This pushed me to start hustling early because I believed that hardships bring hope.
What did you do?
It was tough, being disabled and orphaned, but I had to forge ahead. I became a hawker in the CBD where I would sell jewellery for a living. After constant harassment by city council officers, I relocated to the Kiambu bus stage to hawk my jewellery. It was here that my friends suggested that I vie for the position of provincial delegate at the National Youth Council. I succeeded and was elected board member.
What other roles have you played?
I have served in different capacities such as National Youth Bunge Association Sacco and National government constituency development fund where I was elected as Secretary to represent persons with disability.
During my tenure, we managed to educate youths about financial management. I was also nominated by Hon. Jude Njomo as vice chairman of the Constituency Road Committee which works with KERA to build rural roads network.
How do you feel being a leader with a disability?
I definitely feel different from other people, but I also feel that God put me here for a reason. Leadership is in my blood and I'm hoping to vie for a political seat in future. Serving people in different capacities has given me exposure and I think I can offer the kind of leadership that our country needs.
Do you have a family?
Yes I am married and we have a son. My wife has been my pillar and I am grateful that she loved me the way I am. I count myself lucky because I have a woman who motivates and encourages me to chase after my dreams despite my condition.