Mouline's life has been tragedy after tragedy but she strives to move forward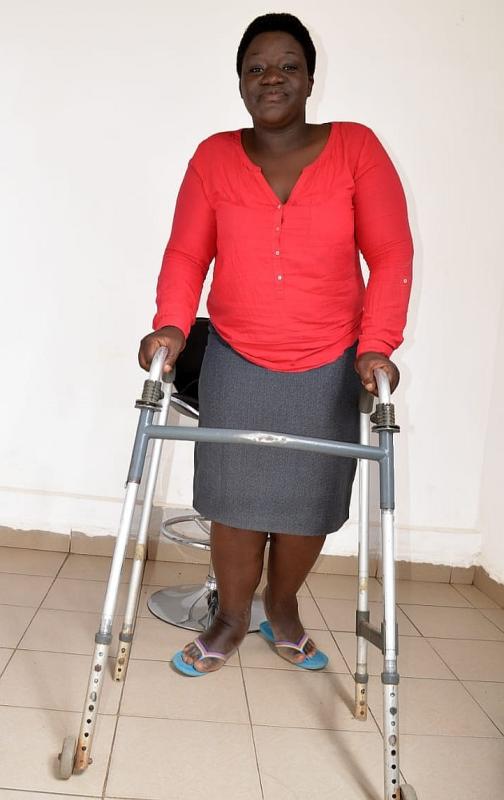 How did you end up in a wheelchair?
One evening nine years ago, I had just left evening classes at a hairdressing college along Mombasa Road when I was involved in a grisly road accident. I boarded a bodaboda to take me home but on our way the rider lost control and suddenly stepped on the emergency brakes. In the blink of an eye we were flying in the air. I hit the ground with a boom and lost consciousness. I woke up in Kenyatta National Hospital unable to move my legs.
What was the extent of your injuries?
The doctors said that I had broken my spinal cord and I would be permanently crippled. It was painful news to hear. I couldn't understand why things had taken this terrible turn just when I was about to accomplish my dreams. Being crippled meant that your life changed completely?
Yes, I became fully dependent on other people for everything. After being discharged from hospital, my family took me back home to Kisii.
However, my situation got worse and my parents only saw me as a burden because I lay in bed the whole day and developed bed sores. I called a friend who lived in Nairobi who came to my rescue and took me back to Kenyatta Hospital.
When we reached the hospital, we were told that my bed had been given to another patient who needed urgent medical attention. That day, I heard one doctor saying that I should be taken home to die because my case was hopeless.
Instead of taking me home to die, my friend took me to Molo District Hospital where I was admitted for two and a half years. It was terrible and some of my flesh was cut off because it was rotting. My parents and all my relatives abandoned me at this point.
How did you pay the hospital bill?
My bill was a whopping Sh4.7 million. Some compassionate doctors helped me record music which I sold, but it wasn't enough. So they waived the bill and discharged me. The biggest challenge became getting a place to stay. Eventually a good Samaritan took me to her home and accommodated me for the next three years.
Is this where you recorded your hit song Omosani?
Yes, I was really inspired by the support and generosity I had received from friends. Remember my entire family had abandoned me. Thankfully the song omosani, meaning friend, became an instant hit. I was often called to perform at events and political rallies.
You mentioned that good times never last long. What did you mean?
After releasing my album, I was at my prime and things were looking promising. Unfortunately, I met a man who promised me heaven. I married him and soon enough, the heaven he had promised became hell. He was the devil himself. He abused me physically, emotionally, mentally and even financially.
One time after I confronted him for having an affair with his brother's wife, he beat me up so badly, took away my wheelchair and left me lying helplessly on the floor. He was a beast and never cared about the child we had together. I had no one to confide in.
How about your pastors?
I told them but they refused to get involved saying that they could not separate what God had put together. In fact, they said that I should stick to my marriage even if it was abusive. Later I got the strength to move out of his house and start my life afresh.
That was a brave move…
Yes it was but my joy was short lived. I fell ill shortly after leaving his house and on seeking medical attention I was told that I had a heart problem. This was causing my leg to swell due to poor blood circulation.
As we speak, I am required to raise Sh2.5 million to go to India for treatment and I don't know where I will get money. Not only that, the sponsors who were supporting my child's education pulled out unexpectedly so I am the only hope she has to complete her education.
What of your parents?
I forgave them but they are not hospitable. They don't treat me as their daughter and sincerely I don't feel loved back at home.
What lessons have you learnt from your ordeal?
I've learnt that the society doesn't recognize people with disability. Most times when you approach people for help they mistreat you. This has taught me to depend on myself for everything.
I have also learnt that there are angels who appear in form of friends to help you when you are in distress and there is no one to assist you.