I draw portraits of women to support single mothers whose partners are deadbeats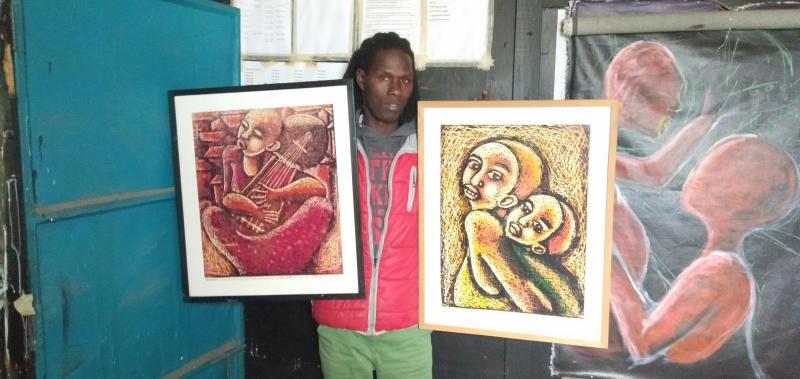 Tell us a bit about your background?
I was born and raised in Lunga Lunga Slum as the first born in a family of four children. My father was an alcoholic and this exposed us to so many challenges. There was a lot of chaos at home and and peace was a dream to us.
How did you cope with a drunkard father?
It was very difficult. Most of the times he would insult us, cause chaos and drama and as if that was not enough, he would throw us outside at night. We have never known what it is like to have a father's love.
Where was your mother all along?
She was there but she spent most of her days working menial jobs to sustain us. Father would spend all his earnings on alcohol, so we survived only on the little cash mother got from her jobs. I had to drop out of school after sitting my KCPE since my mother couldn't afford to pay for my secondary education.
Where did you go after dropping out?
I left home and rented a house. I took my two brothers but left my sister behind since the house was small and couldn't accommodate all of us. Then I started doing small jobs to eke out a living. I would supply water around the slum on a mkokoteni, collect garbage and scrap metal which I would then sell. I always ensured that the extra coins I made from my hustles would go to pay my siblings' school fees.
Did you ever discuss with your father how his behaviour was affecting you?
Yes. I had several discussions with him about how he had abandoned us and how I was overworking to support my siblings yet he was present. But all my concerns fell on deaf ears. I didn't know what to do, so I stopped raising my concerns with him.
When did you start drawing?
Two years after completing my primary education, I joined the Mukuru Art and Craft Project where I was taught how to draw. Back in 2004, crime rates and drug peddling was high in the slum. The art centre was the only place where I could hide from the negative influence of joining the slum gangs.
How come most of your drawings are about women?
My drawings depict how strong women are, especially when their husbands are deadbeats. My drawings also portray how strong single mothers who take care of their children single-handedly are. That's how I express my support to such women out there. I also spend time teaching children from Lunga Lunga slum how to use their drawings to impact the society.
Do you still talk to your father?
Yes we still talk. I found peace and forgave him for all the awful things he did to me. My broken heart is healed now.
What are some of the lessons you have learnt from your experiences?
I have learnt - like the saying goes - that charity begins at home, and so does peace. I vowed never to touch alcohol however depressed I may get because of the things I went through in my childhood. I have also learnt that wherever you find yourself in life, and regardless of the circumstances, use the available resources to propel yourself to achieve your goals and avoid petty excuses.