Deaf landscaper with three deaf siblings works hard to join millionaire's club, one flower at a time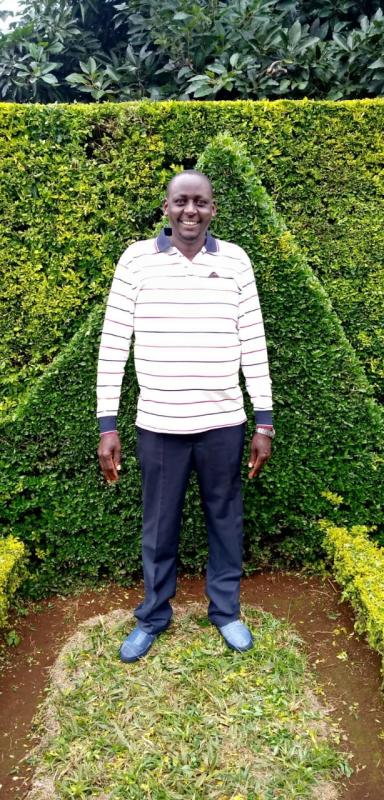 Tell us about yourself.
I hail from a little beautiful village called Kathera in South Imenti, Meru. I attended Kigarine Primary School where I had a terrible time, because I was born half-deaf and did not have access to special education back then. Though I sat at the front of the class, I grasped little, especially if the teacher was not loud enough. I had luck with those who were loud, and did not do so badly in their subjects.
So, what happened after primary school?
Unfortunately, the KCPE marked the end of my education. My father was not that keen on education for my siblings and I, so I started working in farms for little pay. It was tough because I was still very young.
How about your siblings?
I have five siblings and three of them are also deaf. Their story is nearly similar to mine. Only that I was able to somehow change my fortunes, after a lot of hard work and prayers.
How did you earn a living as a young man without an education?
Life was tough for. I picked tea leaves in farms in South Imenti, but the pay was horrible. Yet I had to survive, because as a young man, you are not supposed to depend on your parents. So I picked tea all day in cold weather, and was given some coins at the end of the day.
Was it worthwhile?
Tea picking is not a joke, especially if you are just a boy out of school. You sweat blood to harvest many kilos so as to get enough money for a meal. At some point, I could not take it any more because of the chilling cold and meagre wages. I found work in a small eatery at Nkubu town, for Sh400 a month. It was not good money, but at least my environment was warmer. However, the owner did not treat me too kindly, and one day I was sacked and handed Sh16 as pay!
So you got sacked, what then?
I was tired after working tirelessly months on end, and with nothing to show for it. I retreated back home to lick my wounds while doing menial jobs to survive.
At what point did your life take a turn for the better?
I grew up loving the sight of flowers. So I requested a friend to give me two flower stems from his home, which I planted outside my hut. From the two flowers, I was able to get 800 seedlings. I planted some outside Kathera Methodist Church, my local house of prayer and they bloomed nicely. It happened that John Kariuki, the then principal of Nkuene Boys visited the church and loved the flowers. He asked where he could get such and was referred to me. From my flowers, I extracted 1,000 seedlings which I sold to him at Sh10 apiece. He was my very first customer.
What happened afterwards?
Pleased with how things were turning around, I decided then and there that landscaping is what I wanted to do. Since a new business opportunity had presented itself, I committed to take full advantage of it. I quickly set up a nursery and created a business name - Heldun Flowers. Then I began looking for clients.
Did your new venture pay off?
Yes, it paid handsomely. I have clients all over the country. With my income, I was able to assist my family, and jumpstart my life. I have built a home, educated my son and bought a car among other investments.
What has been the highlight of your new life so far?
On the good side, I once landed a contract worth Sh400,000. However, I have also lost good business because of my inability to communicate effectively. I lost a potential white client due to the language barrier.
What lessons have you learnt from your experience?
We should not wallow in self-pity when we encounter obstacles in life. There is always a way out - I can guarantee that.
Hide your knickers
Hanging your underwear on a public clothesline makes them public property