Premium
Hot, fiery love: Beautiful MCA, Sylvia Muteshi fights for Bishop's affection
SCANDALS
By The Nairobian Reporter | May 29th 2023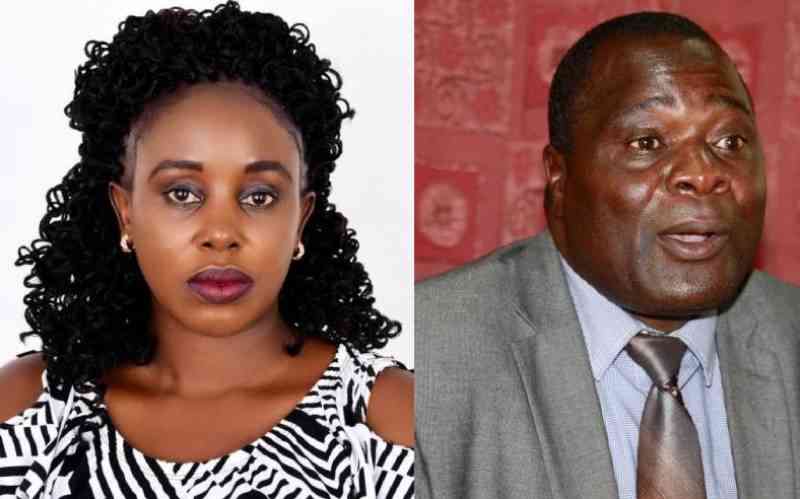 Lurambi MP Titus Khamala is, perhaps, the only legislator running a fully-fledged church while serving his people in the National Assembly. And if this is not time-consuming enough, the MP has gained traction among Kenyans for never missing an opportunity to spread humuor. This time, he was on the receiving end.
A three-minute video of Kakamega Nominated MCA Sylvia Muteshi setting ablaze clothes allegedly belonging to her partner, Lurambi MP Titus Khamala, over love gone sour set the internet on fire early this week. In the video, which is still making rounds on social media, Muteshi alias Senje first declares she was putting an end to "this "nonsense" before summoning the cameraman to move closer.
The smooth-skinned former primary school teacher claimed Khamala has an unquenchable taste for 'yellow yellow', something that she could no longer stomach.
"I am doing this to end this nonsense. Huyu ni mtu amenipata kwa boma yangu, hata kama nilikuwa nimeachwa na bwana, but I have maintained my home," she said. However, barely 24 hours later, Muteshi, in another video, apologized for her "loose tongue", stating that she was human and had been overwhelmed by emotions.
In the earlier video, she had accused the vocal MP of being jumpy and entertaining other women she referred to as "prostitutes".
"I cannot stomach a man who is jumpy. I do not have (his) kid so there is nowhere a kid will tell me 'Mum why did you chase away daddy?'" she went on.
"What I have seen, it is only God who knows...Let him stay with his women and he is free to even marry 10 wives if he wants," said Muteshi.
She further consoled herself that they had not sired a child from their relationship, alleging they were just friends with benefits.
"I am ending everything. I don't want him to come back here or we forgive each other, even the clothes I had bought for him, I am burning them. I want to end this relationship in totality," she said, adding that she was starting life afresh.
Apology: Forgive me for my actions
But in the second video, she said she is only human and bound to become angry and emotional.
"I am a human being and prone to anger and getting emotional. We have individual differences and the way I react is not the way someone else can react," said Muteshi.
She also said the clothes that she burnt in the video belonged to her and that they were just a gift she had intended to give to the lawmaker.
"I want to state it clearly that I have no clothes or have been keeping clothes that were or belong to the said leader mentioned in the video," she said.
She asked Kenyans to forgive her for actions as seen in the dramatic video and especially those who look up to her as their role model and to anyone who was irked by her sentiments.
"What was said in the video was unpalatable. I am making a public apology to the mentioned leader because he is a family man, a spiritual leader to so many people, and, at the same time, he is a political mentor to me and many out there," said Muteshi.
"I am so sorry for anything that went around. If there is anyone who thought that that video going viral like that will take advantage of my weakest point to mudsling, malign, and blackmail any leader, because of that video, am not interested and I will not be a party to it," she added.
The MP had not commented on the issue by the time of going to press.
Embarrassing the MP without providing evidence
However, a section of women leaders called for the revocation of Muteshi's nomination.
They also called for her arrest and prosecution for embarrassing the MP without providing evidence of her accusations.
"She went against the norms and culture of the Luhya community to embarrass and disparage a leader of the status and stature of the MP," said Caroline Ingosi.
Christine Shisia, on her part, questioned how Muteshi got nominated as an MCA saying she is no longer fit to continue holding that office as her actions violated the provisions of Chapter Six of the Constitution on leadership and integrity.
"Let the ODM party revoke her nomination and nominate another person in that position. She is no longer a role model to our young girls. Such people should not be allowed to hold any public office," said Ms Shisia.
Before joining politics, Muteshi was a teacher at Mukumu Primary School.
She was previously in Amani National Congress (ANC) in Shinyalu sub-county. But when the MP decamped to ODM, she followed him and played a pivotal role leading to her nomination. There are claims that the two have been dating for five years. It is also alleged that the MP bought a piece of land for her and erected a house where she is currently living. It is outside the house that she recorded the video.