Premium
Jane Marriott: Kenya will always be my second home
NEWS
By Benjamin Imende | May 31st 2023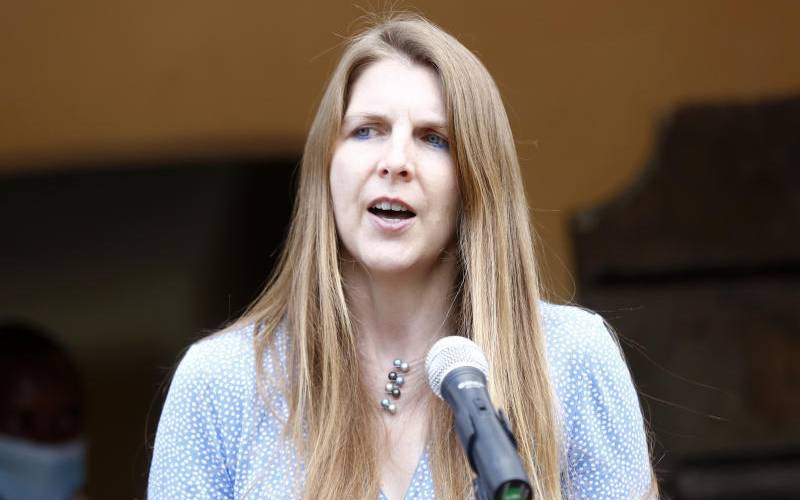 Outgoing British High Commissioner, Jane Marriott, is preparing to leave Kenya having concluded her four-year tour of duty. However, it is not as easy as some may think. Having fallen in love with the country's people, cuisine, safari drives, and culture, Marriot says she is not ready for departure.
"I remember when I arrived. So many people have said to me, You will never want to leave. You'll want to stay, and I thought, don't be ridiculous," she reveals.
"I'll be able to leave, but know that Kenya's got my heart, and I'm afraid. I'm now making some sort of final preparation to leave. I'm not ready, which I think is actually so," Marriott told Persil Telewa, the host of KTN's Globe Traktion show.
But unknown to many, there is also a personal twist to her reluctance to jump on the plane and fly to London for her next posting. The 47-year-old Marriot is still searching and had hoped to find her soulmate in Kenya thus cementing the prospect of the country becoming her second home.
"Well, I think if I was to have one regret, it would be not yet meeting the right chap," Marriott told Telewa at her Nairobi residence during the interview.
According to the envoy, her father's dream was for her to become a librarian at Oxford University, get a nice husband, and be blessed with two children.
"And I've not managed to achieve any of that, but he still loves me. He's still very proud of me. I think probably it was just sort of youthful idealism," she says.
Though she will be departing the country and hopefully get her man elsewhere, Marriot still thinks there are good potential husbands in Kenya only that they have not presented themselves.
"And I say yes because I think there is a man out there somewhere. Yeah, I think so. I think so. I think so. Well, I know there are a lot of amazing, great single women out there and the men that are definitely out there, we just need to get them to pop up and show themselves."
Marriot reveals that she was once in a five-year relationship with a man but one day, he walked out saying that he couldn't be a husband to an ambassador.
"But bless him. He said to me one day, I can't be Mr Ambassador. My ego can't cope with being the ambassador's husband; it wasn't the right one," she says.
I'll meet him at some point
She adds that she has focused on her career to the exclusion of anything else but is willing to be flexible with her job if she meets the right person, who she believes is still out there.
"I'll meet him at some point, and I'm sure to be brave and bold," she says, adding, "Take risks, but make sure you have a support system if you fail, and that it's okay to fail."
Were Marriot to succeed in getting a Kenyan husband, she would not have been the first diplomat to fall in love with both the country and a lifelong partner.
Former United States Ambassador Michael Ranneberger fell in love with a Kenyan woman, Ruth Konchella, soon after his arrival in 2006 and on his very first trip to Trans Mara in Narok County.
Comedian Daliso Chaponda: Why I'm still single at 42

Nurturing healthy youth relationships in the wake of tragedy

New bill proposes stiff penalty for failure to remit housing levy

Religion defied, child born out of wedlock is granted inheritance
During a farewell party at his Muthaiga residence in April 2011, Ranneberger said: "While attending a women's rights event in a small village of Enossen in Trans Mara I was impressed by the way she talked on behalf of women. I took notice. She is a wonderful, compassionate, intelligent, and sweet person," he said of his soul mate.
She was at the time involved in the fight against female genital mutilation.
On her part, Ruth said: "Today, Michael is a good friend. Michael, you are so great, you are so lovely. I love your compassion. He discovered Africa while I discovered first-world love."