Premium
Jackie Matubia joins list of celebs splashing millions to lose weight
ENTERTAINMENT
By Fidelis Kabunyi | Dec 2nd 2022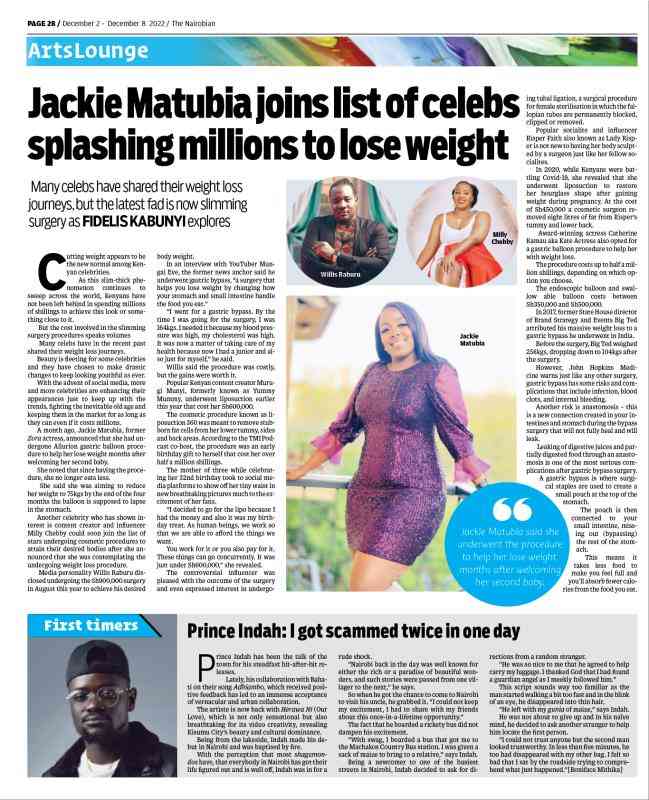 Cutting weight appears to be the new normal among Kenyan celebrities.
As this slim-thick phenomenon continues to sweep across the world, Kenyans have not been left behind in spending millions of shillings to achieve this look or something close to it.
But the cost involved in the slimming surgery procedures speaks volumes
Many celebs have in the recent past shared their weight loss journeys.
Beauty is fleeting for some celebrities and they have chosen to make drastic changes to keep looking youthful as ever.
With the advent of social media, more and more celebrities are enhancing their appearances just to keep up with the trends, fighting the inevitable old age and keeping them in the market for as long as they can even if it costs millions.
A month ago, Jackie Matubia, former Zora actress, announced that she had undergone Allurion gastric balloon procedure to help her lose weight months after welcoming her second baby.
She noted that since having the procedure, she no longer eats less.
She said she was aiming to reduce her weight to 75kgs by the end of the four months the balloon is supposed to lapse in the stomach.
Another celebrity who has shown interest is content creator and influencer Milly Chebby could soon join the list of stars undergoing cosmetic procedures to attain their desired bodies after she announced that she was contemplating the undergoing weight loss procedure.
Stay informed. Subscribe to our newsletter
Media personality Willis Raburu disclosed undergoing the Sh900,000 surgery in August this year to achieve his desired body weight.
In an interview with YouTuber Mungai Eve, the former news anchor said he underwent gastric bypass, "a surgery that helps you lose weight by changing how your stomach and small intestine handle the food you eat."
"I went for a gastric bypass. By the time I was going for the surgery, I was 164kgs. I needed it because my blood pressure was high, my cholesterol was high. It was now a matter of taking care of my health because now I had a junior and also just for myself," he said.
Willis said the procedure was costly, but the gains were worth it.
Popular Kenyan content creator Murugi Munyi, formerly known as Yummy Mummy, underwent liposuction earlier this year that cost her Sh600,000.
The cosmetic procedure known as liposuction 360 was meant to remove stubborn fat cells from her lower tummy, sides and back areas. According to the TMI Podcast co-host, the procedure was an early birthday gift to herself that cost her over half a million shillings.
The mother of three while celebrating her 32nd birthday took to social media platforms to show off her tiny waist in new breathtaking pictures much to the excitement of her fans.
"I decided to go for the lipo because I had the money and also it was my birthday treat. As human beings, we work so that we are able to afford the things we want.
You work for it or you also pay for it. These things can go concurrently. It was just under Sh600,000," she revealed.
The controversial influencer was pleased with the outcome of the surgery and even expressed interest in undergoing tubal ligation, a surgical procedure for female sterilisation in which the fallopian tubes are permanently blocked, clipped or removed.
Popular socialite and influencer Risper Faith also known as Lady Risper is not new to having her body sculpted by a surgeon just like her fellow socialites.
In 2020, while Kenyans were battling Covid-19, she revealed that she underwent liposuction to restore her hourglass shape after gaining weight during pregnancy. At the cost of Sh450,000 a cosmetic surgeon removed eight litres of fat from Risper's tummy and lower back.
Award-winning actress Catherine Kamau aka Kate Actress also opted for a gastric balloon procedure to help her with weight loss.
The procedure costs up to half a million shillings, depending on which option you choose.
The endoscopic balloon and swallow able balloon costs between Sh350,000 and Sh500,000.
In 2017, former State House director of Brand Strategy and Events Big Ted attributed his massive weight loss to a gastric bypass he underwent in India.
Before the surgery, Big Ted weighed 256kgs, dropping down to 104kgs after the surgery.
However, John Hopkins Medicine warns just like any other surgery, gastric bypass has some risks and complications that include infection, blood clots, and internal bleeding.
Another risk is anastomosis – this is a new connection created in your intestines and stomach during the bypass surgery that will not fully heal and will leak.
Leaking of digestive juices and partially digested food through an anastomosis is one of the most serious complications after gastric bypass surgery.
A gastric bypass is where surgical staples are used to create a small pouch at the top of the stomach.
The pouch is then connected to your small intestine, missing out (bypassing) the rest of the stomach.
This means it takes less food to make you feel full and you'll absorb fewer calories from the food you eat.
Celebrate Easter in style with our KES999 annual offer