At any bank's ATM, you will meet crazy broke and rich characters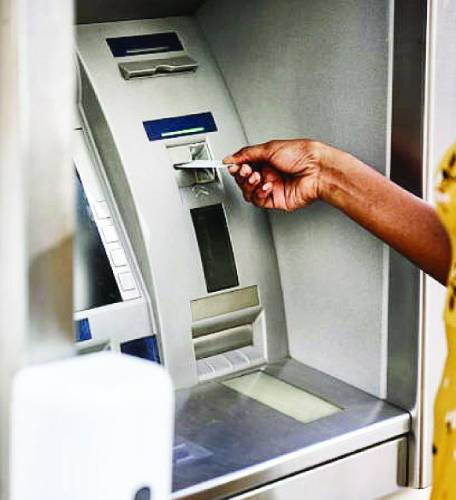 For years, I have been sneaking looks into random strangers' bank balances. This peculiar habit has taught me how easy it is to feel poorer than you really are, or like an underachiever, when you keep poking your nose into other people's business.
In my murkiest moments, looking at these balances gives me self-esteem issues. It's like a midnight stroll along Melancholy Street.
No, I do not work as a bank teller, neither do I go through great lengths to see these bank balances. It is quite simple, really.
You see those bins they put beside ATMs? You see those slips lying on the bins? No, not the crumpled ones – those ones have balances as depressing as mine. The ones you want to concentrate on are the straight as an arrow one, with face up. The ones that have been deliberately left to taunt people like me.
The average human goes to an ATM lobby, do their business, and waits for the printout (why do you need the printouts then discard them, when you could just look at the screen? What about the trees?), studies it quickly, crumples it and throws it inside the bin.
The other kind of human, the one who taunts me, does their business at the ATM, waits for the printout, studies it like he is KRA, then places it carefully on the bin, like they are leaving a coded love note.
These slips will have staggering amounts plastered on them. They are the sort of amounts that can either give you hope, that it is indeed possible to have a fat bank account, or completely go south and leave you wondering what the point of anything is.
That act of leaving the slip face-up is a very conscious one. What I do not understand is the intended purpose. Are they just rubbing it in, making average humans unnecessarily envious? That someone would leave their bank balance on top of a bin, not even bother to tear the paper, could only mean that they want to advertise their wealth to the poor person, who will likely see it. Rich people don't have time to check slips at ATM lobbies.
When I am stuck in a money queue, I study people. There are three main types – I shall ignore the in-betweens. The first type, I already described. It's the group that makes me feel all sorts of bad envy because they obviously have huge (current) bank balances.
This type, they make one good deal and the whole world needs to know about it. I can bet you they like to speak on the phone to their imaginary international supplier and quote very huge amounts or call car showrooms from a pub. They like to buy drinks for random strangers, and they wink at other people's girlfriends.
Then, there's the guy with a serious slouch. He will queue all the way to the front with arms across his chest. He will position his body in a way that shields any potential peeping Tom from seeing the screen. That's the perpetually broke guy, who prefers to keep his shame to himself.
When his money is dispensed, usually a single note, he will take his time to study it, sometimes look at the dispenser, like he is hoping it would feel sorry for him and cough an extra note. They will wait for the balance slip, look at it with disdain, crumple it and toss it inside the bin.
My favourite one, the one I would emulate if I could. He will strut in with mad confidence, he will be on the phone, having a happy conversation, he will still be on the phone when it is his turn at the machine, he will stand a meter away from the machine, doesn't care if you see the details or not, he will key in, then continue talking on the phone as the machine spits and spits notes, he will put the notes, without counting (he is still on the phone), in the inside pocket of his coat, still on the phone, laughing, then he will walk out; just another day at the ATM.
What a guy!