Fifty shades of black: no skin tone is more beautiful than another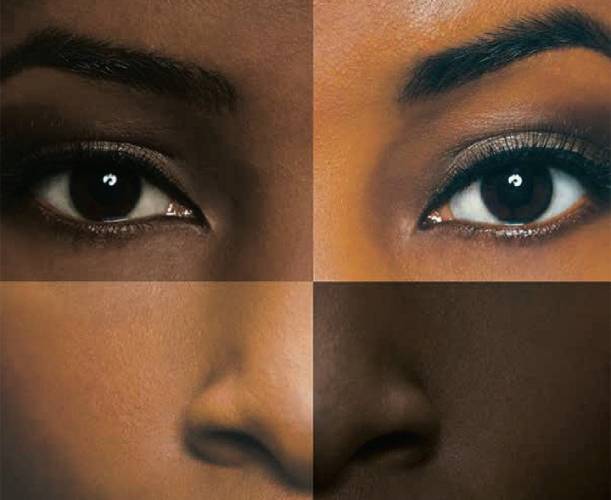 I can just about stare anyone down. I do not remember when I discovered that when you stare at people with a poker face, they start questioning their very use on this earth, but the memory of friends and foes asking me to stop staring at them like that goes a long way back.
Then I met this woman. It was the intensity she was staring at me with, and the silently loud questions in her eyes that got me blinking first, then stop looking straight into her eyes and choose a spot on her forehead. I even guessed some of the questions, and going by how she was folding and unfolding her brow, they were many.
She transported me back to some uncomfortable moments of my childhood. I could call it childhood trauma, only I don't feel trauma, just frustration. Standing in front of a stranger, being scrutinized like an item she was 50/50 about buying, can frustrate the best of them. And it is uncomfortable.
"She's your sister, like, real sister?" The woman finally voiced a question, taking her eyes off me for a moment to fold her brow at my sister who had just introduced me as her baby sister.
My sister nodded, un-bothered. I went further, because I was bothered, "same father, same mother," I said. "But you do not look alike!" She broke the news, lifting her brow that was beginning to bother me because, upcoming wrinkles! "You want DNA proof?" I quipped, laughing a little to lessen my concealed insult.
Here is a back story; I do not look like my siblings, not straight up. I was always the skinny one, and I have a totally different skin tone inherited from my mother. I cannot remember the number of times I have had to explain myself for looking different, the number of times I have felt judged, the number of times random strangers have made me feel, if only for a short while, like I did not qualify to be a member of my own family. Forget the obvious fact that I look like dear mother, with my father's forehead.
Colorism: Prejudice based on skin colour. I shall go a step further and call it colonial hangover.
People with lighter skin tone are viewed with a skewed form of awe, are questioned about their lineage, sometimes loudly, sometimes silently. They are called mzungu, mhindi, and as much as that is not an insult, it is the innuendos, considering their mother and father are both black.
Colorism is a rife social problem. We worry more about racism in a country where most of us are black, lie to ourselves that we are in this together, but to use a Kenyan cliché, kwa ground vitu ni different.
To know how bad a problem colorism is, log onto social media and see the 'them and us' friendly fire. There is a prevalent drive, that dark-skinned women are prettier than light-skinned women, and as much as I understand that it is meant to celebrate darker women who have been made to believe they are not beautiful, for far too long, it's the wrong way of tackling it. We are not solving the problem; we are just flipping the sides.
I am a mother of two extremely beautiful girls, if I may say so myself. One looks like me in more ways than one, including skin tone. The other one is a copy of her father, including his skin tone.
They are ten and twelve, and they are already conversant with skin tone differences. I did not start the conversation, they did, because somebody pointed it out to them, and they wanted to know why.
It would be okay, I guess, to point out the differences, although I don't know why people need to point the obvious, but it's just that the darker ones are made to feel like they got the short end of the stick.
Woe and unto you now, if you point this fact out, my girls will have a short speech for you, a speech designed to leave you feeling a little silly. Affirm children about their looks. Stop pointing out the obvious to people with functional eyes.
You can eat your way into good health
Scientific observations have shown complete reversal of certain disease states, like diet-linked diabetic states, following strict dietary control.