10 reasons Kenyans ignore phone calls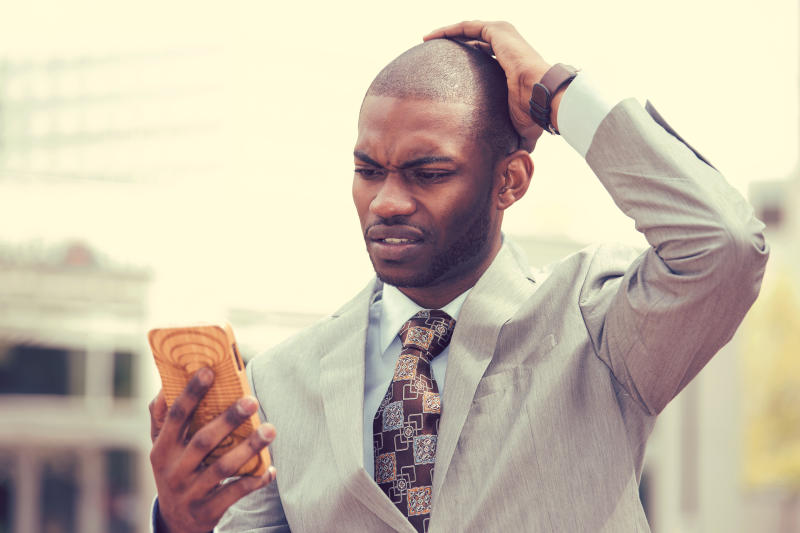 People have this queer habit of staring at an incoming call and then either click or frown and then ignore the call altogether. There are many reasons why calls get ignored. One is avoiding creditors at all costs. Others have many enemies they are always running away from.
Here are 10 reasons a Kenyan would ignore your calls, especially if the number is not familiar:
1. Madeni kibao
Online loan apps have made it easy for Kenyans to borrow money. Some borrow for unreasonable things like sports betting. Then Arsenal gets a penalty and Man United loses, leaving you with debt plus interest. Such Kenyans would not be sure who is calling them from a new number and thus, avoid picking at all costs. If the caller is persistent, they resort to writing "please text, niko kesha" messages, yet they will beat the local drinking on more credit.
2. Selfishness
Some chaps think their time is so important they don't have to answer calls from strangers. For them, picking calls from unknown numbers is an inconvenience. You'd hear them mumbling, "Nani huyu sasa ananimalizia battery ya simu," yet it's their mother using a jirani's line to inform them that "ng'ombe yako imezaa!"
3. Enemies galore
Con men wrong many people who could be baying for their blood after squeezing money for sanitisers for a tender that never was. They don't know which of those they conned has unleashed cops on them and so avoid all calls, including their mpango who has bought a new line!
4. Spilling beans
Wheeler-dealers, brokers, go-betweeners and even connected crooks avoid picking calls when unsure what the person on the other end has and there are people around, eavesdropping. However, they return calls when no one is around.
5. Lazy bones
There are those who find picking calls the equivalent of lifting weights in a gym. Picking a call is thus not only bothersome, but disruptive or time wasting. They will then start regretting when they later find out that the caller was a new employer who was offering three times their current salary.
6. Twice shy
Those with experience of having been duped in one way or another through phone calls are very careful on picking calls from new numbers. As such, they will consider it spam such as calls from unsolicited sales people, random surveys or subscription baits. Rob calls have also made this experience worse.
7. Fear of bad news
Some people fear some calls might ruin their peace, especially calls from the treasurer of the 'Death Fund' in shags. As such, they prefer staring at the phone to avoid bad reports, questions, demands or solicitations. Others don't like being nagged by their exes, needy siblings and relatives.
8. Frustration Square
The person could be going through frustrations in life; having low libido, or have just received news they need to have surgery of the scrotum, and so calls don't add any value to the situation. Others have been dumped, lost their jobs or are arguing with cops when you are calling "kukusalimia tu!" In fact, they keep phones far away and only check for calls at midnight when they can't call.
9. Averse to phone calls
Some people are averse to receiving phone calls and ignore all calls for just that reason. These breed prefer texts in real time. Most hate small take, petty annoyances and unnecessary queries. Others are in areas requiring high mental concentration.
10. The millennial
Millennials are ever on social media, which they prefer to phone calls. They are also always in loud places, where calls are muffled by laughter and music. And when they finally reply, it's in form of an all-emoji sentence which drives old geezers up the wall!