Millicent Ndoro, Kenya's sprint queen hoping to leave a mark at the World Athletics Championships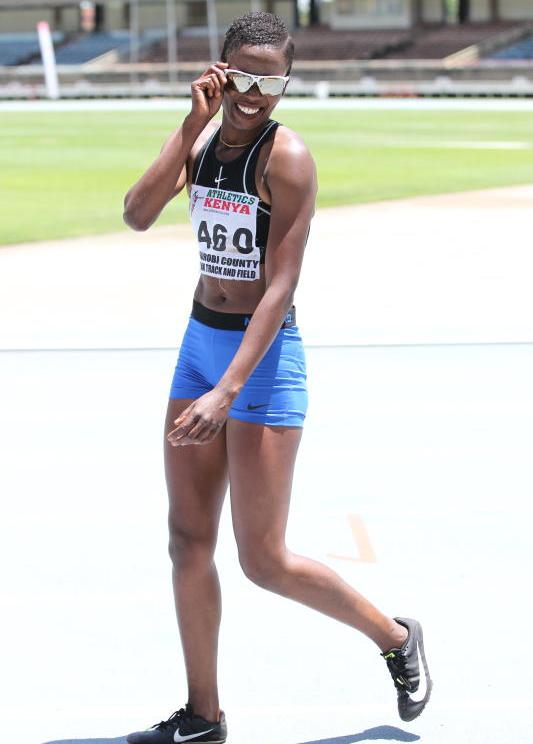 Her swift running style and speedy strides make Millicent Ndoro stand out on the tracks.
Her bobbing ponytail has remained a distinctive feature for some years. Standing at five feet eight-inches, she is a bit of a towering figure. Her beauty, deadly strides, agility and infectious enthusiasm remain quite visible. Ndoro sends men gaga whenever her lithe frame saunters on the tracks.
Ndoro and Maxmilla Imali, another sprint ace, are the hottest Kenyan 100m and 200m girls this season.
The 38-year-old sprinter is drop-dead gorgeous, built like a model, but make no mistake: She is an assassin on the tracks. What's more, she is a police officer by profession, meaning she isn't the sort of woman you mess with. Other than athletics, she doubles up in martial arts, too — for kicks.
As she prepares for the busy season –which has Africa Senior Athletics Championships, World Athletics Championships and the Commonwealth Games – her baby boy comes first in her life.
"Before I do anything, my first consideration goes to my son who is the darling of my heart and I adore him so passionately while athletics comes second to that," she said.
The one-year-old boy is her darling and she is committed to his welfare as a first-time mother. Still, she is locked up in intense training ahead of Africa Championships in Mauritius.
Ndoro, who is Police Corpral attached Central Police Station in Nakuru, says it's a tough balancing act multitasking motherhood, police duties and athletics training.
Ndoro says she longs to hit qualifying times for World Championships (in Eugene, USA in on July 15-25) which, if she misses, will land her on the Commonwealth Games squad to Birmingham in UK on July 25-August 8.
"Athletics comes third after my son and my job. My son inspires me in my job and athletics," she said.
Ndoro and Imali, who is attached to the Directorate of Criminal Investigations (DCI) and 2019 African Games 4×100 metres relay bronze medalist, will take on Namibia's Olympic 200m silver medalist Christine Mboma and 2017 world 200m silver medalist Marie-Josée Ta Lou of Ivory Coast at the Africa Championship in Mauritius.
"Imali is a tough and consistent sprinter who has always beaten me in the 100 metres as opposed to 200metres where we have always exchanged the lead. At times, I beat her in 200metres and vice versa making the battle too competitive, healthy and sweet," she said.
Ndoro trains at Rift Valley Institute of Science and Technology (RVIST) Stadium in Nakuru.
"This rivalry is good for all of us and the sport in general. Without it, the competition looks boring."
Ndoro likes training with men to boost her speed. "Men are more powerful. When I compete against them, it inspires me to improve on my strength."
She said that does not rule out training in Nairobi where she goes for specialized training against some of the best national sprinters who include 100 metres national champion Ferdinand Omanyala and his arch-rival Mark Otieno.
"Omanyala is a world sprint athlete and training with them is quite helpful," she said.
Ndoro competed at the Africa Games in Rabat, Morocco in August 2019, Africa Athletics Championships in Asaba, Nigeria in August 2018 and in the 2015 Commonwealth Games in Gold Coast, Australia.
She finished fourth at the semi-finals inside Carrara Stadium at the Commonwealth Games in Gold Coast Games.
At the 2018 Africa Senior Athletics Championships in Asaba, Nigeria, Ndoro bowed out in the semi-finals.
She boasts a personal best of 11.4 seconds in 100 metres set at the Commonwealth Games in Glasgow, Scotland, in 2014.
She also has a personal best of 23.48 seconds in 200 metres set at the national championships in 2018.
Although she has never won a medal in any of the international championships, she is still hopeful of attaining a good show in future.
"A good player does not lose hope in an event the moment he or she loses but it should give you the motivation to win in the next international championships," she said.
At the continental level, she has huge respect for Mboma and Ta Lou whom she described as experienced athletes.
"Beating Ta Lou or Mboma is not easy. I have tried to compete against them in the African Games and Africa Athletics Championships. I respect them," she said.
Despite her participation in the continental championships and in the Commonwealth Games, Ndoro has never featured at the Olympics.
"Olympic qualifying times are very high but that does not mean it is not unachievable," she said.
Besides the Birmingham Games, she looks forward to taking part in the Africa Athletics Championships from June 8-12 in Mauritius and World Championships from July 15-24 in Eugene, Oregon USA.