Early politics between Odinga and Mboya forever changed Luo football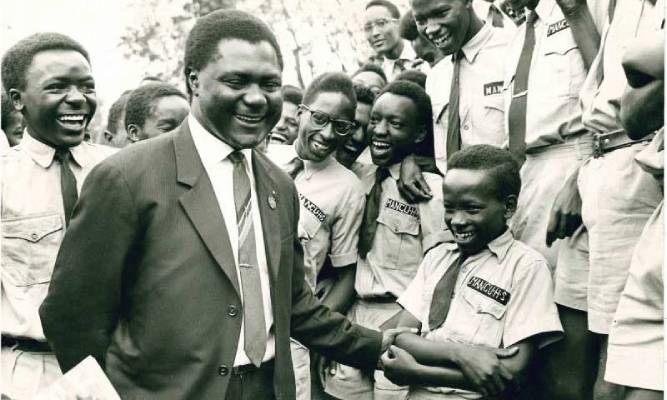 Luo Union was founded as a Luo welfare association in the 1920s in Nairobi after several Luo welfare associations folded up to form one umbrella union. Its aim was to unite Luos in Kenya and later spread to East Africa by building a cultural unity around Luo identity.
It catered for social support causes among Luos in urban centres until graduates from Maseno School and Alliance High School led by Jaramogi Oginga Odinga showed up in the 1940s. By 1950, the union had about 3,000 members with branches in Dar-es-Salaam, Mwanza, Kampala, Kisumu and Nairobi.
The Luo Union Mombasa Branch formed Ramogi FC which played in the Kenyan top-flight league from 1966 up to the mid-1970s. The Mwanza branch formed Luo Union FC in 1957. This was the work of mostly Kenyan Luos working for Tanganyika Plantation Company.
Most of them moved to Kenya at independence and brought the club to Nairobi. This is the club that came to be known as Re-Union or simply Re-Ajwang'. They finished second in the first national league in 1963 behind Nakuru All-Stars and then won it in 1964.
When Feisal FC of Mombasa won the league the following season, Luo Union was second. They had truly announced their place in the creme of Kenyan football.
Soon after independence, Vice President Jaramogi Oginga Odinga differed with President Jomo Kenyatta, especially on the ideological front and started pursuing a socialist path.
Kenyatta decided to use Tom Mboya to slow him down. In 1966, the year Jaramogi resigned from government, Luo Union FC split and Luo Sports Club was formed by a section of the players.
In 1967, Luo Union was omitted from the league but the Mboya-backed Luo Sports Club was slotted into the fixtures.
At this point, some Luo Union FC players moved to Kisumu Hot Stars so as to feature in the league. They resided in Nairobi but travelled on weekends to Kisumu for home matches which was tiresome.
These are William Chege Ouma, James Siang'a, Joseph "Smart" Okello and John "Hatari" Otieno. This split in Luo Union saw Abaluhya FC, which was formed in 1964, win the league in 1966 and 1967.
Jaramogi was now in the political cold and "his club" was out of the league. Luo Union FC was struggling and Luos were not enthusiastic to be seen to be supporting the club because of perceived political leaning. At the end of 1967, Luo Union FC officials went to see Mboya to propose uniting the two factions. The two clubs were disbanded to form Gor Mahia in 1968.
After the assassination of Mboya on July 5, 1969, things took a new turn. Odiawo Nyandega and Solomon Oiro led a push to change the name of Gor Mahia back to Luo Union. The choice of the name of a South Nyanza Luo legend Gor Ogallo for the club was viewed as the influence of Mboya who hailed from Rusinga Island.
When this was not well received, they unsuccessfully tried to take over the club from Zack Ramogo, the inaugural chairman. The acrimony went on silently within the club and the 1973 elections led to a fall out. The Odiawo Nyandega team walked out of Gor Mahia and Luo Union FC was revived in 1974.
Several players decamped from Gor to join Luo Union. They are Steve Yongo, Peter 'Pele' Ouma, James Siang'a, William Chege 'Ouma', Otieno 'Hatari', John Oduor, Steve Yongo, and Martin 'Ogwanjo' Ouma. They won the league in 1975.
Gor Mahia became the club for South Nyanza Luos and Luo Union for Luos from Central Nyanza. Things looked good for Luo Union when it became the first Kenyan club to win the Confederation of East and Central Africa Club Championship (Cecafa) in 1976 and 1977.
In 1980, Attorney General Charles Njonjo executed President Moi's order that tribal organisations must change their names or be banned. Luo Union died a natural death and the club reverted to Reunion FC. Other players to have featured for the club are Congolese Peter Ondidia and politicians Raila Odinga, Peter Kenneth and Chris Obure.
Players who played for Re-Union in the recent past are Ben Gachie and goalkeeper Mathew 'Ottamax" Owino, who was signed while still in secondary school when Peter Kenneth was Club Chairman in 1991.
Reunion stayed in the top flight league finishing in good positions and creating some great rivalries with Gor Mahia and AFC Leopards. This happened until 2002 when they were relegated together with Gor Mahia.
The bulk of supporters from the Luo community were on the side of Gor Mahia and the club was immediately reinstated back the league.
Re-Union went to play in the lower divisions. Currently, the feature in the Nairobi Provincial League.
@stuttisitician